An historic British die-makers, which has been established for more than half a century, has unveiled a brand-new look.
Arden Dies, which has its headquarters in Stockport, Greater Manchester, has undergone a major rebrand with a fresh modern look and a new website.
The new logo has been refreshed in blue and grey and is inspired by the carton outlines from Arden's packaging design CAD software Impact; while the new website showcases the full range of die-making products and tooling solutions for packaging and cartons.
The family-owned company enjoys a rich history having been first launched from the cellar of a semi-detached house in Stockport in 1964.
Brothers Frank and Philip Poynter set up a die-making outfit in the cellar of their family home with just one saw and a workbench. Within a matter of months, they'd outgrown their 10ft square underground workspace and moved into their first official headquarters in Marple.
Fast-forward to today and the Arden Group of companies, which comprises of its Dies, Engraving and Software divisions, has offices around the world including America, Germany, Denmark and India.
Martin Poynter, Managing Director and son of company founder Frank Poynter, said: "Arden Dies has been a leader in the die-making and packaging sector in the UK for more than half a century, garnering a solid reputation as one of the UK's leading and best-known die-makers.
"After 56 years of manufacturing dies and tooling for the packaging and carton industries, we decided it was time for a fresh, new image; so we're very excited to unveil our updated logo, brand and website, which better reflects the range of products and services that we offer.
"Arden Dies continues to go from strength-to-strength and we're committed to continual investment in the very latest tooling technologies to deliver the highest quality, most innovative products available, so we wanted a contemporary new look to match our ambitions.
"We work with some of the world's leading packaging converters and are renowned for our quality die-cutting and associated tooling solutions, so while we may have a new brand, our customers can rest assured we'll still be delivering the same great products and service that we've always been known for."
The new and improved website features better functionality, design and navigation, making it quicker and easier to find up-to-date product and technical information about Arden's range of die-making products and services.
The site, which was developed in partnership with web designers Left and Right Creative, has been designed to make it easily accessible via a range of web browsers and devices and has been optimised for mobiles and tablets.
Visit the new website at www.ardendies.com.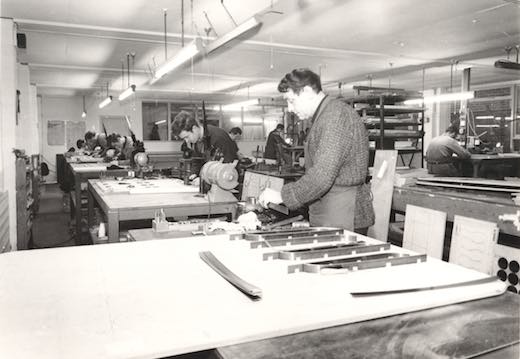 Arden Dies enjoys a rich history. Arden Diemakers at work during the 1960s.