CMYUK, Shrewsbury – CMYUK has appointed Susie Williamson as a key account manager for its Interiors, Fashion and Design range of specialist textiles for digital printing.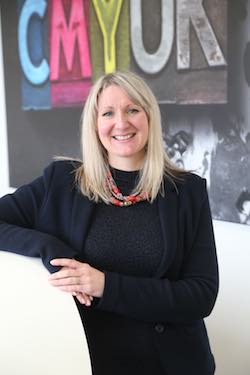 Susie who has a degree in fashion marketing is an experienced surface designer who has enjoyed a career immersed in textile design and printing. Prior to joining CMYUK, she worked for Macclesfield based RA Smart and Think Positive Print, a pioneering direct-to-fabric digital printing and textile design house, also based in Macclesfield.
Susie will work with print service providers (PSPs) that currently specialise in retail and corporate interiors to expand and deepen their portfolio offerings into décor and design through textile production. By introducing them to specialist fabrics, PSPs will be able to produce unique upholstered digital coverings for furniture, bespoke designs for blinds, rugs, cushions and more, to create highly engaging and aesthetically ambitious multi-faceted interiors.
Susie will be working closely with CMYUK's textile solutions team to support creative entrepreneurs, surface designers and small businesses in embrace Reshoring. This is the practice of turning textile and material design collections into printed products in-house for short-runs, one-offs, or web-to-print just-in-time output. This establishes additional new revenue incomes for their portfolios.
Just 20 years or so ago, UK textiles were printed in bulk using screen-printing processes. However, with countries such as China, Pakistan, Spain and Turkey producing equal volumes far cheaper due to the low cost of labour, textile printing all but left the UK. The geographical distance also ensured that delivery times ran into multiples of weeks.
Digital technology has bought the printing of textiles back home. In the early days, digital printers were slow, inks were costly and materials on which to print were limited. Now digital textile printing is high quality, fast with much lower ink costs. Producers can now print onto an a wide variety of materials including cottons, linens, velvets and a range of polyester fabrics that can mimic tweeds, silks, chiffons and so much more.
"I've been really blown away by CMYUK," says Susie. "It's a really forward-thinking and innovative company. It's exciting to be a part of a business that proactively looks to the future with new solutions. CMYUK is really conscious of its eco-credentials, something that is really important to me too, and something that I've been worried about for a long time in textiles. I'm delighted to be part of a company that has a future vision for change."
Michael Crook, New Business Director at CMYUK said, "We are delighted to welcome Susie to the CMYUK team, as we expand and grow into new markets. She brings with her a wealth of knowledge in textile design and technology, along with experience in digital print production.
"As customers diversify and expand on their digital print capabilities, we see a strong move into digital textile printing to service markets such as interior design, fashion, and promotional branded products. CMYUK has a bold and extensive range within this area that perfectly replicate the look and feel of traditional fabrics, and Susie will be key in its delivery to market."