First EcoLeaf™ installation on a Mark Andy Digital Series HD hybrid press
Technology combination enables profitable and sustainable metallization of small to medium-length labels
Lehrte, Essen, Bünde, Germany – ACTEGA Metal Print GmbH today announces that the specialist high-quality labels printer, Barthel Gruppe – one of the largest labels printers in Germany and the Netherlands – has joined its beta program with the world's first installation of an ACTEGA EcoLeaf™ Metallization unit on a digital and flexo hybrid press.
Recently installed on a Mark Andy Digital Series HD press, at its eprint facility in Bünde, Germany, the EcoLeaf unit enables the company to offer an alternative to traditional cold foil, while providing its cosmetics-based customers with high quality, cost effective but sustainable short to medium-run metallized silver labels. Additionally, by using the Mark Andy press to overprint the EcoLeaf trigger image, the Barthel Gruppe can now offer new forms of profitable decorative effects including a rainbow of metallic colors.
"We are always looking for new ways to support our customers with labels that leap of the shelf and increase retail sales. Through finding and testing new technologies, we ensure that we have an eye on sustainable production processes that could reduce our environmental impact. EcoLeaf is a great opportunity of this, and one we wanted to utilize," explains the owner of Barthel Gruppe, Mr. Barthel.
"Our team has already run commercial jobs through EcoLeaf. As a result, we are now very optimistic that EcoLeaf will provide us with an important competitive edge – while enabling us to dramatically reduce our use of foil. We can also see that in time, we'll be able to expand our business with new types of spectacularly decorative, profitable metallic labels too," confirmed Mr. Barthel.
Barthel Gruppe – with headquarter in Essen, NRW – specializes in providing labels for some of the world's leading brands in markets including chemicals and auto, food, pharmaceuticals, wine and spirits. In January 2020, Barthel Gruppe acquired the cosmetics specialist eprint to expand and complete its portfolio. The company now has printing and storage facilities across Central Europe, enabling it to successfully serve its worldwide customer portfolio.
Jan Franz Allerkamp, Managing Director of ACTEGA Metal Print, comments: "It has been a privilege to add Barthel Gruppe to our beta program. Not only is their new facility at eprint just an hour's drive from our own location, but they also share our vision for superior customer service as well as the future of sustainable and profitable metallized labels."
"As our first unit in a hybrid solution, we can't wait to see how Mr. Barthel and his team utilize our technology to develop their business. With eprint now being part of the larger Barthel Gruppe, we expect EcoLeaf to help them unlock many other growth opportunities," concludes Allerkamp.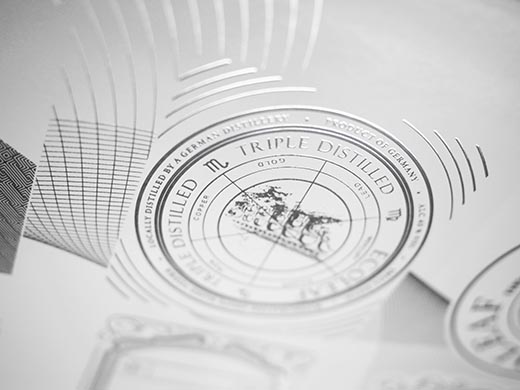 ACTEGA Metal Print EcoLeaf Sample