Calahora, La Rioja, Spain – Cartonajes Santorroman, a leading corrugated packaging and display provider in Spain, today announced it has purchased an HP PageWide C500 Press, bringing the first water-based ink, industrial-scale digital corrugated solution to the Iberian peninsula.
A major player in the packaging market for wine, beverages and agricultural trays, food safety is a key value of Santorroman's packaging strategy. The acquisition is aimed to provide a solution for packaging that can be safe for food and sensitive products for brands, while delivering packaging campaigns with quick turnaround. Santorroman also delivers advanced display and Point of Sale solutions.
"As a leader in packaging innovation, we are investing now to deliver our clients the benefits and added value of offset-quality, digital post-print. In particular, the HP C500 water-based inks will allow us to produce packaging for our brands that is food-safe for their end consumers" said Leopoldo Santorromán, owner, Santorromán. "On top of this huge advantage, this new production press will allow us to reduce lead time and minimum order quantities to support any size campaign, thereby helping to optimize our clients' corrugated supply chain."
Santorromán is scheduled to start installation of the HP PageWide C500 at the beginning of 2021 at its manufacturing headquarters in Calahora, La Rioja, where it supplies corrugated packaging to the entire Iberian market. Operating an HP Scitex Corjet since 2001, the addition of the industrial-scale HP PageWide C500 builds on the company's digital experience.
Established 110 years ago, the family-owned company is focused on ensuring a sustainable supply chain, and taking care to ensure water, materials and resources protect human health as well as the environment.
"The power of water-based, offset quality digital printing in the corrugated packaging market in Iberia is now a reality, thanks to a leading innovator like Santorromán," said Mark Rowland, EMEA go-to-market manager, HP PWI Corrugated.
Breakthrough HP PageWide C500 technology
The PageWide C500 employs HP's patented Thermal Inkjet technology, designed for high print quality in demanding production environments, printing at 75 linear m/min in 1200 npi resolution using one million nozzles. The C500's unique Corrugated Grip technology delivers precise handling of industry grade boards for smooth production, while Virtual Belt technology delivers accurate media motion.
The HP PageWide C500 Press delivers sharp text and barcodes, smooth tone transitions and vivid colors.
HP's water-based inks are odorless and free of UV-reactive chemistries, enabling a wide range of packaging applications, including primary and secondary packaging for sensitive uses such as food and personal care while requiring no additional barriers. HP's water-based inks can meet stringent food safety requirements like Nestlé guidance, Swiss Ordinance, EuPIA, and USDA FDA 21 CFR.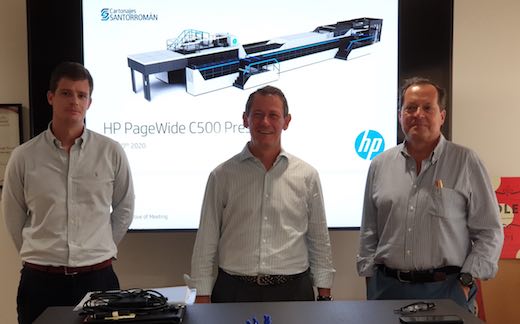 (Left to right): Leopoldo Santorromán Pradés - deputy GM, Rafael Godino – HP, Leopoldo Santorromán Saldaña – Owner, GM.
Learn more about the HP PageWide C500 Press at hp.com/go/C500.