"Interket is one of Europe's leading label groups operating out of 5 production sites in Europe: Germany, the Netherlands, UK, Denmark and Sweden", begins Carl Parkander, CEO of the Interket Group. Each site caters to its local market and every site is slightly different from the others. The overall strategy of the Interket Group is to be close to its local markets. The company supplies a wide variety of labels that range from basic labels to complex label solutions as well as security applications to satisfy customer requirements. Its customer base ranges from small local businesses to large Blue Chip and pan-European clients, all of whom are represented across all industry sectors and labelling applications and demand a high level of service.
While we have digital equipment installed at different sites, we did not yet have a production digital press in Sweden. This investment in a Xeikon digital press is a major milestone for Interket. We are gradually moving away from high volume label production to short-run label production with more added value solutions. This means increasing service levels and working with faster turnaround times. This requirement is of course a perfect fit for digital printing.
The key reason we chose Xeikon is the modularity of the different types of presses and of course top printing quality which is a given. We are now investing in a specific model – the CX300. With this machine we will still have the possibility to upgrade in the future. If the printing volumes in Sweden require a higher capacity, which we hope, then we can easily increase the production capacity of the press. The fact that the investment is scalable in the future represents a unique value for our company. In that respect, the Xeikon CX300 is second to none in the industry today. It is a 330 mm wide press with a production speed of 30 m/min. We can go wider and be more productive in the future if needed, and it leaves all options open to develop our strategy together with our other production facilities. The Xeikon press will also serve as a backup solution for our other facilities, and in the future it might make sense to have a 520 mm press. Even though we are investing in a 330 mm wide press today, we have the possibility to upgrade or convert our Xeikon press into a 520 mm capable press. Our decision to go for Xeikon is a choice for flexibility. For Interket, modularity, and thus flexibility, is a major advantage!
Secondly, the workflow capability of Xeikon with its X-800 digital front-end is very appealing. We realize that in order to stay successful in the label market, you need to look further than just your digital press. You need a support infrastructure for the press and you need to look at the total process as well. The press will be integrated to our production plant and connected to our MIS system. Xeikon has demonstrated the power of its front-end and how this can lead us into a true digital transformation."
Stefan Gustafsson, Managing Director Interket AB, continues, "We are really looking forward to utilising the clever technology and flexibility of the Xeikon CX300 so that we at Interket Sweden can make the most of the digital transformation. The Xeikon solution really fits in to our current business model of high service offering. The workflow aspect is very important for us. On top of what Carl has explained, I would also like to add the fact that the quality of the white toner is state-of-the-art with the best result in opaqueness. Furthermore, the fact that the Xeikon toners are food safety approved really makes sense for us: food labels and health care labels are a major part of our business. Finally, Xeikon has a subsidiary with direct sales and excellent service in Sweden.
There is extra security in having your digital partner nearby. We used to rely on our colleagues from the Netherlands for help with digital label jobs. Now we can produce them directly in our own plant. The logistical benefits including cost savings deliver an immediate advantage to our customers in Sweden. The combination of having both conventional and digital printing here in Sweden will make it easier to attract new customers locally. We will also sell in a different way. Of course, we will sell short run labels, but in addition we will also aim at the complete supply chain of goods and that will bring in jobs that we could not have sold before. Variable data labels are just one example. What's more, Xeikon will help us train our salespeople with tools that they have developed just for that purpose.
There is a clear strategy behind our investments. We first developed a specific application at a customer's request, and the next step was to implement an MIS system in Sweden. This MIS is now implemented on all our sites. The Xeikon press, together with an offline finishing device, is the last investment enabling us to better serve our customers in Sweden. Until recently, for short runs we either had to print with conventional equipment here in Helsingborg, or our colleagues in the other countries would help us with production on their digital press. From now on, we can serve our Swedish customers even better thanks to the Xeikon label press."
Filip Weymans, VP Marketing at Xeikon concludes, "For the past 3 decades, we have experienced the importance of workflow first-hand and we keep innovating to optimize and simplify our X-800. The Cheetah 2.0 series, with the Xeikon CX300 as the new kid on the block, features built-in technology that reports in real time on performance, availability, etc., via a cloud connection, providing data that translates into information for fact-based decision making. The machine-to-machine interface allows for the integration of pre- and post-equipment either inline or offline. This interface transfers all relevant information about the jobs to the appropriate finishing module to eliminate human errors. The information flows seamlessly through the manufacturing process and contributes to the overall equipment effectiveness (OEE). The man-to-machine interface has been designed in a way that allows the operator to assess the status of his press either live or remotely. This helps Interket, with their different production sites, to cooperate in an efficient way across the group."
For more information about Xeikon, visit www.xeikon.com and for Flint Group, visit www.flintgrp.com.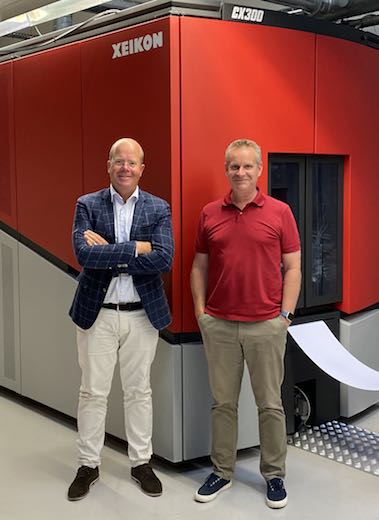 Stefan Gustafsson, Managing Director Interket AB and Carl Parkander, CEO of the Interket Group.