Association Releases Video Awards Presentation in Response to COVID-19 Restrictions
Topeka, Kan. – The Foil & Specialty Effects Association (FSEA) has announced the honorees in its 27th Annual FSEA Gold Leaf Awards Competition. In a departure from the typical awards presentation that would have occurred during an in-person conference event, the FSEA released a video awards presentation to honor the winners as a part of the FSEA Online Learning Experience (www.fseaconference.com).
"Like many other associations, the FSEA had to find new ways of doing business during the pandemic," said FSEA Executive Director Jeff Peterson, "We are thrilled to be able to honor our award winners with a video reveal that feels very much like the ceremony we would have held at our traditional in-person event. Congratulations to all of our winners!"
Entries were received from countries around the world, including the US, Canada, Denmark and Taiwan. Gold, silver and bronze winners were honored in 37 categories. Best of Show and two Best of Show Honorable Mention honorees also were revealed.
DataGraphic, Commack, New York, was awarded the Best of Show award for "Stag&Hare Honey Box," which was entered in the category of Best Use of Foil/Embossing – Folding Carton (Technical Difficulty). The carton was a promotional piece for Stag&Hare's customers, showcasing four jars of honey varieties in a custom "jewelry box" featuring tactile textures and finishes throughout. The outer box, honey jar cartons, honey jar insert trays and position-mounted inside flap card were created from a matte black soft-touch paper and decorated with gold foil and gloss spot UV varnish, along with screen-printed colors. Once the decorative boxes were coated and foil stamped, they were individually diecut, with each piece being hand-fed to ensure perfect registration. The design of the outside box and the individual honey cartons were such that they could be scored and folded without the use of glue.

Two Honorable Mention certificates were awarded – the first was presented to Thoro Packaging for "Holiday Promo" in the Best Use of Unique Fold category; and the second to Foil Graphics for its "Childhelp Drive the Dream Gala" in the Best Use of Laser Cutting category.
The competition evaluates submissions that utilize a wide range of specialty finishing techniques, from foil stamping and embossing to specialty coating, film laminating, laser cutting, diecutting and cold foil applications. Submissions come in a variety of formats, including book covers, point-of-purchase displays, folding cartons, promotional pieces, calendars and more.
Gold award winners in the 27th Annual FSEA Gold Leaf Awards, along with the categories in which the submissions won, are listed in this press release. To view photos of the pieces submitted by the Bronze, Silver and Gold honorees, visit www.fsea.com.
Best Use of Foil/Embossing - Announcement/Invitation: DataGraphic, NFL Friday Night Party Invite & Sleeve
Best Use of Foil/Embossing - Book Cover/Jacket: The Bertelsmann Printing Group/Dynamic Graphics Finishing, The Night Country
Best Use of Foil/Embossing - Business Card: Print Panther, Skintricate Business Card
Best Use of Foil/Embossing – Calendar: J.S. McCarthy Printers, Calendar 2020 Vision
Best Use of Foil/Embossing – Calendar (Industry Supplier): Carlo Gasperini, 30th Anniversary Pi-Emme Calendar
Best Use of Film Casting (Cast & Cure™): Apartment Ideas, Apartment Ideas Business Card Box
Best Use of Embossing: Baugh Graphic Finishing House, US Capitol Poster
Best Use of Cold Foil - Label/Carton: Diamond Packaging, Oscar de la Renta Bella Essence
Best Use of Cold Foil – Self-Promotion: Univacco Technology, Inc., Univacco Cold Foil Label Collection
Best Use of Digital Inkjet Foil: Print Panther, Be Seen. Spicer's Invercote Magazine Insert
Best Use of Digital Inkjet Coating: Jostens, From All Angles
Best Use of Digital Inkjet – Coating/Foil (Supplier Promotion): Print Panther, Indulge in Success Chocolate Box Sleeve/Konica Minolta Promotion
Best Foil/UV Coating Selection Guide: Gravure Choquet, Kurz Foil Selector Art of Adding Value
Best Use of Foil/Embossing - Folding Carton (Creative Design): Millennium Print Group, Turok Classic Collector's Edition
Best Use of Foil/Embossing - Folding Carton (Technical Difficulty): DataGraphic, Stag & Hare Honey Box
Best Use of Foil/Embossing - Greeting Card (Commercial): Hallmark Cards, Inc., Husband Twinkle in My Christmas
Best Use of Foil/Embossing - Greeting Card (Self Promotion): Baugh Graphic Finishing House, Baugh Christmas Card
Best Use of Holographic Foil: Boutwell, Owens & Co., Inc., Drakon
Best Use of Foil/Embossing - Label (Creative Design): Multi-Color Corporation North America Wine & Spirits, Precision
Best Use of Foil/Embossing - Label (Technical Difficulty): Univacco Technology Inc., Univacco Champagne Label
Best Use of Laminating Film: The Bertelsmann Printing Group/Dynamic Graphic Finishing, Darling Rose
Gold
Best Use of Laser Cutting: Foil Graphics, Childhelp Drive the Dream Gala
Best Use of Letterpress: Bella Figura, Agua
Best Use of Foil/Embossing – Miscellaneous: The Embellisher, The Life of "The Embellisher" – John Rushgrove's Story
Best Use of Foil/Embossing - Presentation Folder: Admore, "I See Folders in Your Future"
Best Use of Refractive Foil (Micro-Etched Die): Hallmark Cards, Inc., Christmas Poinsettia and Leaves
Best Use of Foil/Embossing - Rigid Box: Carlo Gasperini, Tendero Box
Best Use of Foil/Embossing - Self Promotion (Holiday): Tru-Cut LLC, Tru-Cut Christmas Ornament Box
Best Use of Foil/Embossing - Self Promotion: Diamond Packaging, Diamond Packaging 2020 Calendar
Best Use of Foil/Embossing - Self Promotion (Industry Supplier): Dreyer Kliché, Harlequin and Colombine
Best Use of Foil/Embossing - Hardback Book Cover: Jostens, Earthworm Jim Launch the Cow!
Best Use of Foil/Embossing - Softback Book Cover: The Bertelsmann Printing Group/Dynamic Graphics Finishing, Super Bowl LIV Program
Best Use of Special Diecut: All American Label & Packaging, Light Up Holiday Lantern Centerpieces
Best Use of Specialty UV Coating (Screen): eskju | Bretz & Jung, Pantec Tequila
Best Use of Specialty UV Coating (Technical): Brightmarks, LLC, Lincoln – Black Label
Best Use of Unique Binding: Southeast Finishing Group, Inc., Orlando Magic Wine Auction Book
Best Use of Unique Fold: Thoro Packaging, Holiday Promo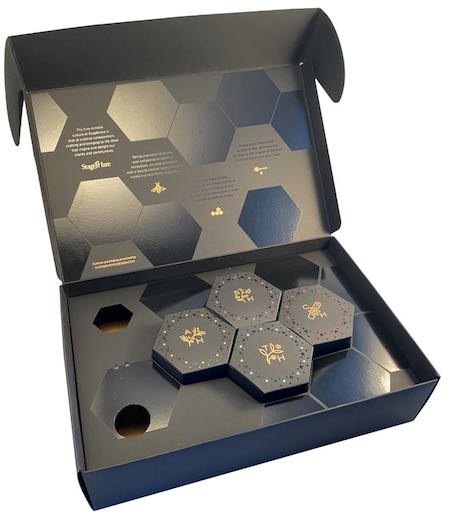 DataGraphic, Commack, New York, was awarded the Best of Show award for "Stag&Hare Honey Box."