Marietta, Ga. – Bounce Back Marietta, part of Bounce Back USA, provides free business listings and connects community members with businesses so they can support each other at this time. For Judith Danny and the Minuteman Press franchise in Marietta, GA, the Bounce Back initiative led to an out-pouring of support from local businesses and a community-wide celebration for the Class of 2020.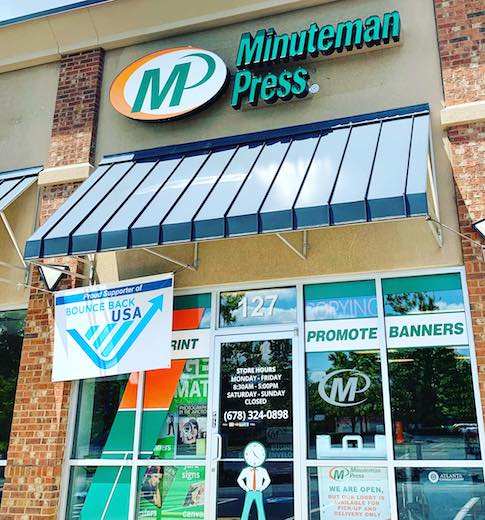 Minuteman Press franchise in Marietta, GA helps support local businesses with free Bounce Back Marietta website: https://bouncebackusa.minuteman.com/locations/ga/marietta/
Local business owner Judith Danny of Minuteman Press Marietta explains three ways that Bounce Back Marietta was embraced by fellow business owners and residents:
"1. One of the first people to contact me after my first Bounce Back email blast was Kelly, an employee and a mother of a 2020 graduate at Marietta High School. She wanted to direct the school's printing operations to Minuteman Press in order to support local businesses. We were talking about her son's graduation materials and that led to discussing the possibility of school-wide graduation signs. A couple of weeks later, over 500 contour-cut yard signs of the graduates' smiling faces lined the front of the high school. This unique graduation celebration made the front page of the local newspaper and received thousands of views on social media."
"2. The owners of Marco's Pizza and Marietta Perks were inspired by my example to remain open. They cited Bounce Back's "supportive community" as a source of hope during these times. Both businesses were in the middle of pre-opening renovations just as the shutdown happened, so there was no better time to find support."
"3. Jennings Music was the first business to advertise in the Bounce Back Marietta website, because they remained hopeful. They realized that the possibility of serving customers is reason enough to stay open and stay the course."
"By quickly adapting during COVID-19 and embracing the nationwide Bounce Back USA initiative launched by Minuteman Press International, Judy has been able to earn business, reinforce relationships, and serve as a great example for other businesses in Marietta," adds Dave Walton, Minuteman Press Regional Vice President.
For information on Minuteman Press Marietta, GA, visit https://www.marietta.minutemanpress.com. Learn more about #1 rated Minuteman Press franchise opportunities and read Minuteman Press franchise reviews at https://minutemanpressfranchise.com.