Madrid, Spain – Etiquetas Rospil has taken the next step on its digital transformation by capturing new markets with an investment in a Tau 330 RSC E from Durst, manufacturer of advanced digital printing and production technologies. Increasing numbers of its own customers are explicitly demanding that their labels are produced on the single-pass inkjet press.
Madrid-based Etiquetas Rospil has enjoyed unstoppable growth due to its strong customer focus and commitment to innovation. It became one of the first companies in Spain in 2013 to invest in digital ink-jet technology with Durst's Tau 330/200 solutions, which produced more than 10 million linear meters. Etiquetas Rospil has now become the first company in Iberia to install the Durst Tau 330 RSC E. It improves versatility and provides faster order turnarounds to ease pressure on delivery requirements. Replacing the Tau 330, the machine also allows considerable ink consumption savings per linear meter.
Jorge Pérez, Deputy Manager of Etiquetas Rospil, which is celebrating its 45th birthday, also highlights the consistency of the color and brightness of the orders produced on the Tau Solutions. "Each year there are an increasing number of customers who demand explicitly that their labels are produced with Durst Tau technology," he said. "It's been unstoppable growth. Also, we are clear that the future of the sector is digital. That is why we decided to take a new step.
"We have full confidence in Durst. Our experience with them has been second to none. There is nothing comparable in terms of quality and reliability and, now with the new Tau 330 RSC E, neither in productivity. Furthermore, the technical assistance offered by Durst Ibérica is fully personalized."
The Tau 330 RSC E combines best-in-class print quality with an economic investment and is fully upgradeable to an 8-color label press to provide increased capacity when production requirements increase. Etiquetas Rospil's model is equipped with four colors plus white.
Mr Pérez said: "We know the future is digital and we will make new progress in the coming years. This is another advantage of the the Durst Tau 330 RSC E – it allows upgrades of productivity up to 80 linear meters a minute and add process colors to match our requirements. However, for now we are very happy with the current investment. In addition, we are already taking concrete steps in the Industry 4.0 transformation. This is the challenge we have to face in the coming years and by joining forces with a partner such as Durst in this transformation, we are encouraged to make further progress."
Helmuth Munter, Durst's Segment Manager, Labels and Flexible Packaging, said: "Etiquetas Rospil's growth is a perfect example of how innovative and forward-thinking companies recognize the all-round benefits of our technology. We're delighted to hear that its customers increasingly demand that their orders are produced on the technology. Our Tau RSC platform sets the base for industrial inkjet printing in the label industry. It offers a total package to all our customers in terms of high quality, the best possible service and resulting production reliability, as well as important cost-savings."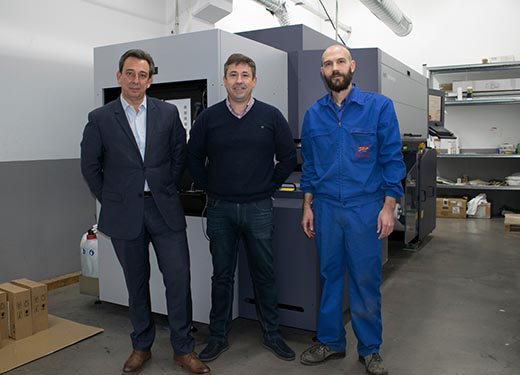 Rospil on next steps to a digital transformation. From L to R: Raúl Pérez, Durst; Jorge Pérez, Deputy Manager and Guillermo Romero, Tau RSC E Operator.