Located in Eau Claire, Wisconsin, Documation is a full-service commercial printer that has been in business for about 25 years. Today, with approximately 85 employees, they specialize in Print on Demand and Custom Direct Mail, however their roots were as an in plant for a seminar company. They initially produced brochures, seminar documentation, and then started to print for associations as well. They continued to grow, purchased new equipment and began printing books for educational and self-publishers.
Today, Documation produces a wide variety of printed products in a future-proofed on demand print environment, relying on multiple printing, finishing and software solutions such as automated imposition by Ultimate TechnoGraphics.
Managing a Fleet of Print Devices
The growth and product mix led them to acquire different offset and digital printing presses including HP PageWide T240 HD Web Presses, Xerox iGen 5 and iGen 150 Digital Presses, Canon imagePRESS C10000VP Digital Presses and a Komori Lithrone 28'' 6-Color Offset Press, all of which were driven by their own workflow solutions. The technology disparities rapidly became an irritant to Jeremy Stanek, General Manager at Documation: ''With the variety of customers, applications and equipment we support, it became evident that we needed to find a workflow that could tie it all together.''
Building Centralized Prepress Workflow
Documation decided to build their own workflow system, called docuPOD, using off-the-shelf component modules to automate prepress ordering and production flows. Since each of their customers has its own business systems, they use Adeptia®, an enterprise-class integration platform, to convert the customer's order input, which could be XML, CSV, EDI, etc., into JSON and then into their EPMS MIS system to capture the order. This combination of software solutions makes the onboarding of orders and new customers a fairly streamlined process. Their production tools include Enfocus Switch and PitStop for normalization and workflow management, and Ultimate Impostrip® Scalable for hands-off automated imposition. For commercial print jobs, Enfocus Switch moves the incoming files into Ultimate Impostrip® AutoFlow Hot Folder based on information from the MIS system. Ultimate Impostrip® then automatically generates the gang run imposition, respecting the integrity and number of copies of each job, and sends it to the respective DFE of the press it will run on. This process is completely automated as the job information is seamlessly passed from the software solutions to the presses.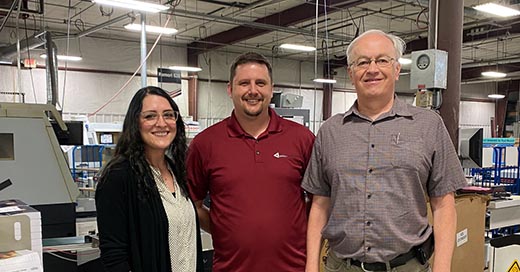 Key Documation team members who developed internal system docuPOD which use Ultimate Impostrip® for all impositions. From left to right: Samantha Jaskowski, Imposition and Layout Technician, Jeremy Stanek, General Manager, Randall Krass, IT Manager.
Optimizing Imposition for Inline Perfect Binder
Documation also acquired a wide assortment of Horizon and Hunkeler bindery equipment over the years. When they started their print on demand program, about two and a half years ago, they bought some automated perfect binding equipment that would take a roll of paper off of their HP PageWide Web Presses, unwind it, cut it, fold it, stack it, perfect bind it and three knife trim it. This inline finishing flow brought its share of challenges according to Documation GM: "Because of the variability of the number of pages of each book, we needed to find a solution that could dynamically handle signature lengths to eliminate the obligation of adding blank pages in the back of the books to complete a signature. Ultimate Impostrip® provided exactly what we needed.''
Automating Finishing with Barcodes
Ultimate Impostrip® also addressed the other bindery setups they needed to automate. Using the job information captured by Adeptia® along with EPMS MIS and Enfocus Switch, the on demand print jobs are imposed in Ultimate Impostrip®. The imposition automation software solution creates all the compatible 2D matrix and 1D barcodes to pass the job information to the finishing equipment such as job and signature identification, total number of signatures, sheet length, unwind and/or cutter needs, and even tells the folder to open and close gates. ''Ultimate Impostrip® allows us to automate essentially everything that we need to run on our Hunkeler and Horizon bindery equipment as part of the imposition process.'', admits Stanek.
Future-Proofing Print Business
By building a centralized prepress workflow and connecting it to finishing with Ultimate Impostrip®, Documation has created an automated workflow that goes from customer through to press and bindery with consistency and without the need for manual intervention. This has been a major factor in their ability to grow, take on new products and services. They are now producing more than 5,000 unique books per day in a completely automated fashion, and the modularity enables them to be future-proofed and ready to take on whatever challenges the future might bring.
To learn more about Ultimate Impostrip®, visit imposition.com/software/ultimateimpostrip.