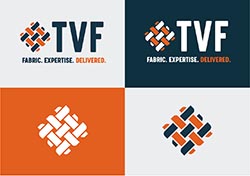 Just before the COVID-19 crisis started, at TVF we were nearing a very exciting announcement: a full rebrand with a new name, logo and visual identity. We paused that announcement as we and everyone else focused on understanding and adjusting to the quickly changing circumstances. Since then, we've been able to support the response efforts by delivering products, service and expertise for our customers as many of them pivoted to making PPE and other crisis related products. We have been honored and humbled to do our part in aiding the efforts.
While serious uncertainty and challenges persist in our country and in the world, the worst-case pandemic scenarios now seem unlikely and the economy seems to be starting a recovery. During a time like this, it is especially important that people and businesses keep making progress. In that spirit, we are proudly moving forward with our rebrand.
During the past year, we undertook an extensive discovery process to learn how TVF is perceived both internally and externally. Thanks to this research, we realized a new name would more accurately portray who we are. We wanted our brand to reflect our commitment to great products, industry expertise, and relentless focus on customer success.
Together with our employee-owners, we brought our vision to life through a new visual system we felt best speaks to our product: fabric. The interwoven threads of our logo's new mark represents our products and services as they weave together to create success for our customers.
The integrated tagline communicates what TVF provides our customers: Fabric. Expertise. Delivered. Fabric is the TVF product, and expertise is our key differentiator. The word 'delivered' has a dual meaning, which we highlight with an accented color. It's our assurance that TVF will not only deliver the goods on time but will also deliver on great products, expertise, and customer satisfaction.
Delivering on that satisfaction is what TVF has done since our founding in 1974. We're super excited about our new brand and hope it resonates with you too. Thank you for being a part of the TVF Family, and stay safe.
Chris Fredericks
President of TVF