Bounce Back Canada Provides Free Local Business Listings & COVID-19 Safety Posters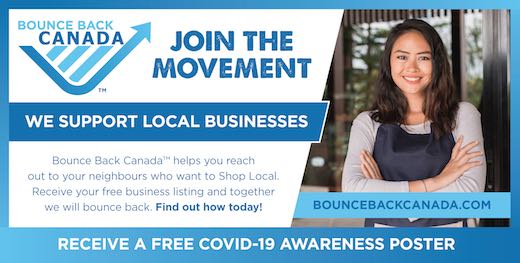 Join the Coalition Now to Show Support and Solidarity with Local Business Communities in Neighbourhoods Across Canada
Minuteman Press International has launched a new initiative, Bounce Back Canada, to help give back to businesses in local communities that have been hit hard by the COVID-19 pandemic. The initiative is available right now, free to business owners at https://BounceBackCanada.com.
"Bounce Back Canada™ offers two free services to help support all of our neighbouring businesses as we find a way to work together through these unprecedented times. First, we are distributing COVID-19 awareness and prevention posters at no charge to any business in our service areas. Second, we are providing free local advertising on this site to stimulate business and help all of our neighbours overcome the tremendous economic effects of the COVID-19 pandemic. We truly believe that a rising tide will lift all ships, and we want to make sure our communities stay afloat," says Nick Titus, President, Minuteman Press International.
How It Works:
Visit https://BounceBackCanada.com.
Select your location and then click on your local office.
Fill out the form at the bottom of the page to submit your company's special offer or supportive message for publishing on our site at no charge. Just upload your logo and the message or offer, and we'll publish your message in the appropriate category.
Your listing will be published for free and you can order your posters via safe delivery if you like. In the event local delivery of posters is not possible, a small shipping charge may apply, but the posters will be free.
Click here to watch the Bounce Back Canada video on YouTube!
BOUNCE BACK CANADA: SAFETY • SOLIDARITY • STIMULUS • TOGETHER WE WILL BOUNCE BACK
Join the coalition now to show your support and solidarity with the business community in your neighbourhood! Visit BounceBackCanada.com to get started.
Spread The Word: Share Bounce Back Canada with any business owners who may be interested and help support local business today.
For more information on Minuteman Press products and services or to find your local center, visit https://minutemanpress.ca. Minuteman Press franchise opportunity information and reviews are available at https://minutemanpressfranchise.ca.