Topeka, Kan. – In May 2020, Mainline Holographics began offering a revolutionary new product that may transform the way brand owners, packaging engineers, and designers use holographic board, paper, or labels for packaging or print collateral.
Up until now, holographic paper, board, or label stock has been created by embossing an image or pattern into metallized poly film. But over the last year, Mainline has developed an exclusive technique for applying a high-refractive index (HRI) coating to the poly film. This new coating provides a white, rather than gray metal appearance to embossed holographic patterns.
"By using this new surface, luxury brand owners, such as those in the confectionery, cosmetics, fragrance, and even the fine liquor markets, will be able to elevate their packaging and print collateral in ways they've never before imagined." says Mainline Holographics' National Sales Director John Tillinghast.
Like their standard metallized holographic offering, Mainline's 60+ stock patterns are now also available in the new white background in 16-24pt 28 x 40" sheets or in 80# litho up to 40pt. And if a customer wishes to alter an existing pattern—or create their own unique design—that can be accomplished as well, on either the standard metalized poly film or the new white HRI coated poly.
"Mainline's new white holographic option is subtle yet vibrant," says Mainline Holographics' COO John Parker Jr. "Since it mimics the look of white board or paper, designers will be able to develop an entirely new canon of special effects by applying varying levels of inks or coatings to its surface."
Unlike most other holographic companies, Mainline has no minimum order requirements and can warehouse jobs for customers currently experiencing supply-chain bottlenecks, reduced hours of operation, or temporary closure.
To see the over 60 holographic patterns available from Mainline Holographics, visit www.mainlineholographics.com.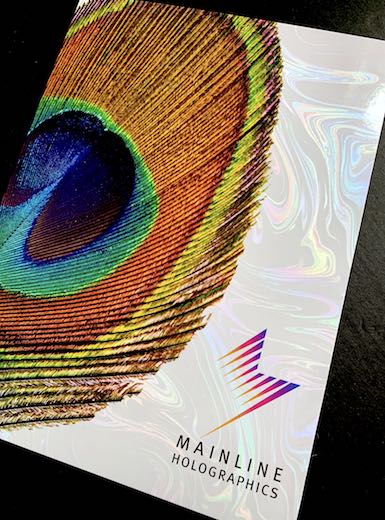 Folders for Mainline Holographics feature their new white holographic technique, embossed with the Swirl3 pattern.