STA's January 2019 investment in an Acuity B1 is just the latest step on a pioneering journey into digital print for metal decoration STA s.r.l., based near Turin in northern Italy is a metal decoration printing specialist and wholly owned subsidiary company of Emmeti s.r.l which is the exclusive supplier of ICAS Spa - the world's leading cap and wire manufacturer for sparkling wine and Champagne bottles. The 1.4 billion caps and wire cages the company produces annually, and exports all around the world, represents approximately 70% of total global market share.
Until the founding of STA in the early 1990s, Emmeti had outsourced all printing work for its disc caps, but even as long ago as that, the market was beginning to demand more and more customisation and personalisation. Emmeti's lithographic print suppliers were unable to offer the levels of flexibility required by changing customer demands. The founding of STA as a lithographic metal decoration specialist was their answer.
30 years on, STA remains a forward-thinking company. "We began experimenting with digital technologies ten years ago," says Director Marco Trotto Gatta. "There's a steady trend in the market for shorter runs and more customisation and personalisation - so we've been looking at the best ways to develop as a business in order to meet that demand for a long time. Our first digital press had some clear limitations: it was extremely slow, very dependent on manual processes, and the quality wasn't quite what we wanted. We were on the lookout for a high-quality digital press with offset-style and in-line architecture to make it easy to use.
"We already had a close working relationship with Fujifilm who were a plates and pre-press supplier to us. Technicians and sales people from Fujifilm Italy were with us a lot - and it was through them that we first heard about the Acuity B1.
"This was not a machine that had been designed specifically to print to metal - but we quickly became convinced that it had that potential. After running some tests and seeing the machine in action at Fujifilm's facility in Broadstairs in the UK, and after comparing it with all the alternatives we could find, we concluded that it offered the best combination of quality, in-line architecture and automation to take our digital print production up a level.
"There were some teething problems, but we were able to offer advice from our own substantial industry experience and, working closely with Fujifilm technicians and with technicians from Inca Digital, the manufacturer, we've made excellent progress in adapting the press for high-quality, short-run metal decoration. Fujifilm has invested a lot of time into ensuring the machine does everything we need it to do. We're now printing between 100 and 120 sheets per hour on the Acuity B1 - more than 10 times what our previous digital press could manage. This allows us to do short run jobs that would previously have had to be litho-printed, and importantly it has also allowed us to take on customised, high-value work. We're now able to deliver some jobs in a matter of days that would previously have taken us several weeks.
"For some of our smaller customers, who would previously have had to settle for single colour caps, it provides a huge opportunity to order custom designs. And for our bigger customers, where previously we had to charge them for a single, litho-printed sample, we can now cost-effectively produce multiple samples in varying designs and colours so that they can get a full appreciation of the possibilities.
"The fact that the system is automated and the feeder and the stacker are all in-line as well, means that our operator is freed up to perform other tasks while the machine is printing. It's also very straight-forward and uncomplicated to use. This is important because unlike with offset print, where the level of quality you can achieve is very reliant on the level of skill of the operator, the Acuity B1 prints exceptionally high levels of quality at the press of a button. Furthermore, it doesn't have the downtime of our litho presses, where colour changes typically take 30 to 40 minutes per colour. This time can really add up too, as we only have one colour litho press.
"We've also seen significant improvements in the registration since installation - now reaching the very high standard we set ourselves of 0.1mm.
"Finally - though the cap and cage market for sparkling wine and Champagne very much remains our core focus, our digital print capability means that we have also been commissioned by other manufacturers - including can makers - who are intrigued by the possibilities for high quality, customised short run work."
Kevin Jenner, Industrial Business Manager at Fujifilm Speciality Ink Systems says: "Shortening print runs have been the reality in the graphics market for at least the last two decades. In metal decoration the trend is the same, it's just at an earlier stage. What the STA experience proves though, is that investing in digital technology is not about mere survival in a world of shortening run lengths, it's about opening up a world of creative and added-value possibilities. And for the few, true digital trailblazers - the potential rewards are especially significant."
Matt Brooks, Head of Products & Solutions at Inca Digital, the Cambridge, UK, based manufacturer of the Acuity B1 says: "We appreciated the valuable feed-back in collaboration with STA during the infancy of the Acuity B1 to deliver an end to end in-line system which met STA's expectation and helped to realise their strategy for digital in metal décor."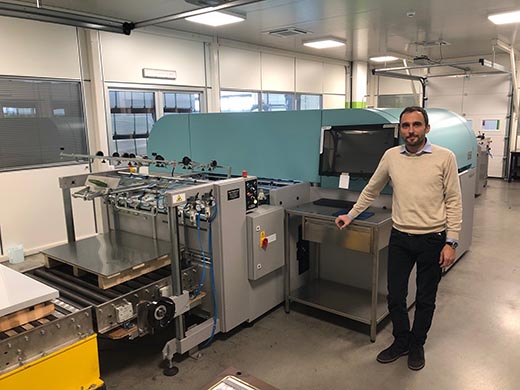 Marco Trotto Gatta, Director, STA.