By Kevin Karstedt
In the very early days of the current health crisis the Independent Carton Group (ICG) met in Park City Utah for its Spring Meeting. On March 11th and 12th, while members discussed how empty their flights were and what the status of drupa 20 might be, their spirits were high and that "can do" attitude, which is in the DNA of all ICG member leadership, was already evident. At this time the state of Ohio was just banning gatherings of more than 1000 people and US cases of the virus were at 1,100 with just a hand full of deaths reported. As a matter of fact, March 11th was when the World Health Organization first declared the Corona Virus outbreak a pandemic.
While the group was treated to a fantastic plant tour of All Packaging's plant in Salt Lake City the country and the world were moving to much broader shut down measures. Talks among members were focused on how they would cope and push through any challenges that would arise. Discussions included how companies managed following 911 and an attitude of "we will get through this too" was the prominent buzz in discussions around the dinner table that evening. As the meeting concluded on the 12th and members began their travels home, it was obvious that everyone had been in contact with those at home and at work and that plans were in the works for how their companies were going to cope with whatever was to come.
In mid April ICG members were adapting to the "new normal" in many ways. By this time it was readily apparent that their businesses were critical for a functional society during the COVID-19 crisis and deemed by the government as "essential businesses" allowing workers to travel empty streets and report to work. Some had to shut down for 24 to 48 hours to sanitize their facilities and get reentry plans in place which included taking employee's temperatures prior to their entry into the building through a new, one way, traffic pattern. Staggered shifts were implemented to keep passing contact at a minimum and working compartments were designated with break rooms for each compartment, again to minimize contact and many office workers were shifted to working from home.
As the country began hitting its stride adjusting to the challenges of working in various stages of social distancing and quarantine, ICG members were busy serving the needs of their customers, many of which are supplying critical medical and food products. At Outlook Group in Neenah WI they were focused on meeting the spike in demand to deliver packaging for critical customers producing food for our homes and medical products such as thermometers for our healthcare workers. "We have added hourly workers, most of whom were laid off from local businesses, and added overtime to our schedules to meet the needs of critical customers." said Jim Woller, Market Development Manager for Outlook Group. "As well, we've taken on first priority business from companies converting to the production of hand sanitizing products in our flexible packaging and folding carton categories" Woller continues.
In one of the hardest hit areas of the country Accurate Box in Patterson New Jersey and its 300 employees are working hard to keep their customers, many in the club store food sector, supplied in critical packaging. "Many of our customers are struggling to manage their needs and many are ordering 30% more than normal while we are producing with many of our employees out due to the illness." Says Lisa Hirsh, President of Accurate Box. "There are a lot of multigenerational families living in very tight quarters in our area and we have lead a drive to help get critical supplies to these families. It's been a wild ride for our company and for the entire region," says Hirsh.
In Lake Forest Illinois, Colbert Packaging is working hard to address the escalated needs of their majority pharmaceutical and healthcare customers. Over the years Colbert has proactively developed and maintained a Business Continuity Plan (BCP). "Having a robust BCP is a great asset for us in these challenging situations and these times help us to continually refine the plan and be better prepared for the next challenge," says John Lackner, President at Colbert. "Benefits of being an ICG member are apparent in this situation in that we have been able to leverage collective input to enhance our BCP based on the leanings of other members. We are also getting great service from our suppliers who have come through with critical components based on the power of the ICG," Lackner says. The company participates in a scholarship program with the Elkhart Urban Enterprise Association and while schools were closed they hired several college students in the program allowing them to gain valuable learning experience and an income while official classes are not in session. Colbert also contracted with a local seamstress to make masks for their employees.
Anyone trolling LinkedIn these days will see how companies are helping their communities cope with the pandemic, the folding carton industry and ICG members are no exception. Of the few that were contacted for this article all are involved in "giving back" in various ways. With the growing and critical need for Personal Protective Equipment (PPE) by healthcare workers and first responders Diamond Packaging of Rochester New York, Vista Color of Miami Florida and Zumbiel Packaging of Hebron Kentucky are three ICG members that have participated in the design, production and delivery face shields locally and internationally. Diamond Packaging CEO and owner Karla Fichter said "We saw an opportunity to help in this challenging time… We've been working on designing, redesigning, and improving the face shields to come up with something that can truly benefit all the brave people out there on the front lines every day and taking chances for themselves and their families." Diamond has donated over 10,000 face shields to UR Medicine Home Care in Webster New York, and nearly 200,000 more to hard hit areas in different states. Diamond is also supporting essential businesses by producing folding cartons for pharmaceutical and health care companies.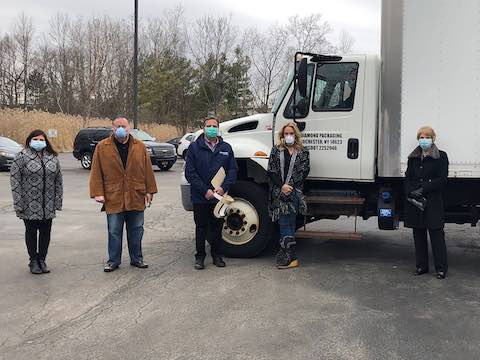 Pictured left to right: Monroe County Legislator Karla F. Boyce, Monroe County Legislature President Dr. Joe Carbone, David Rydell, President, COO of Diamond Packaging, Karla Fichter, CEO and owner of Diamond Packaging, Jane Shukitis, President and CEO of University of Rochester Medicine Home Care
Vista Color has jumped into the PPE making business with both feet as well designing and making face shields for local hospitals in the Miami area. Vista Color was featured on Miami television station Channel 10 WPLG on April 14th for their efforts. Jess Hernandez, President of Vista Color says that a big reason the company came up to speed so quickly at the beginning of the crisis is having brought on a Compliance Director two years ago. "We had a good plan in place for such an emergency and now we are refining that plan for the next time," says Hernandez.
In Northern Kentucky Zumbiel Packaging has joined with over forty packaging firms from twenty countries creating "Fiber Shield" to create single use face shields for medical professionals all over the world. As of April 29th the group has donated over 1,250,000 face shields globally. "Our industry wanted to do something to support the fight against COVID-19," said Ed Zumbiel of Zumbiel Packaging, "so when we realized that face shields were in short supply, and that we could in fact manufacture them with our existing production assets, we turned our organizations loose." From a press release by FiberShield.org "the most amazing part of this story, according to Zumbiel, is that 'virtually everyone in the packaging ecosystem has jumped in to offer raw materials, production assistance, and logistics support to the companies who are producing shields.' It is truly a global, humanitarian effort, the likes of which the packaging industry has never seen."
Jay Willie, Executive Director of the ICG is proud of the twenty member companies. "This is a group of the best run companies in our industry and by seeing how they are dealing with the challenges of the COVID pandemic and still finding ways to give back to their communities is a real testament to their leadership," says Willie. "I am equally proud of the ICG designated supply network that partners with our ICG members. They are successfully meeting the increase in material demands as consumer essential products and stock piling have tightened some markets. Both the ICG members and its suppliers attributed much of this success to following the workplace guidance of the CDC," says Willie.
ICG Member Companies:
| | | |
| --- | --- | --- |
| Accord Carton | Alsip, Illinois | |
| Accurate Box, Inc. | Paterson, New Jersey | |
| All Packaging Company | Aurora, Colorado | |
| 3C Packaging | Clayton, North Carolina | |
| Colbert Packaging Corp | Lake Forest, Illinois | |
| Curtis Packaging Corp. | Sandy Hook, Connecticut | |
| Dee Packaging Solutions | Chester, Pennsylvania | |
| Diamond Packaging | Rochester, New York | |
| El Paso Paper Box | El Paso, Texas | |
| Frankston Packaging | Frankston, Texas | |
| Howell Packaging | Elmira, New York | |
| Indiana Carton Company, Inc. | Bremen, Indiana | |
| Jones Healthcare Group | London, Ontario, Canada | |
| Outlook Group | Neenah, Wisconsin | |
| Royal Paper Box Co. | Montebello, California | |
| Sonderen Packaging | Spokane, Washington | |
| Vista Color Corp. | Miami, Florida | |
| Wausau Container Corp. | Wausau, Wisconsin | |
| Winston Packaging | Winston-Salem, North Carolina | |
| Zumbiel Packaging | Hebron, Kentucky | |