BOBST has announced that it has sold its 300th VISIONCUT. The flat-bed die-cutting machine was purchased by ADAMS, a corrugated packaging manufacturer, based in Poland. The company is a long-standing BOBST customer, already owning five flatbed die-cutters, two of which are VISIONCUT machines and a range of folder-gluers, plus the outstanding MASTERFLEX-HD 5-color printing press.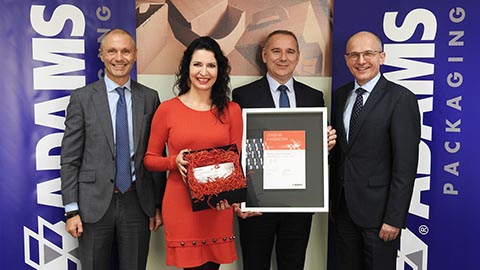 Since its launch, VISIONCUT has proven popular with manufacturers around the world looking for first-class die-cutting capabilities, while at the same time delivering true cost-effectiveness, flexibility and efficiency.
Able to handle all types of materials and suitable for both long and short runs, VISIONCUT combines robustness, low cost ownership, straightforward handling and optimum performance to meet the needs of today's converters.
ADAMS supplies a wide range of corrugated packaging to sectors including food and beverage, industrial chemicals, point of sale and display signage, and more recently e-commerce markets.
Adam Skrzyniarz, Founder and President of the management board at ADAMS, commented: "We are operating in a very competitive environment and we are strongly attuned to the needs of the market in order to quickly respond to any new developments and expectations of our customers. It's important that our equipment and infrastructure enables us to deliver the high-quality standards that both we and our customers demand.
"Thanks to VISIONCUT, our customers can receive high-quality products, precisely tailored to their needs, for the best price. The machine offers a short changeover time, helping us to maximize uptime and productivity, along with an advanced print-to-cut register system which delivers the high precision and accuracy that we need. With VISIONCUT, we can improve production planning capabilities and deliver first-time right excellence, every time."
VISIONCUT was designed to be compact, ideal for companies looking for a machine with a small footprint, and easily integrated into existing production lines. For added value, it also supports a range of peripherals, increasing production output and flexibility further – both features were key selling points for ADAMS when choosing the die-cutter.
Installation was efficient and did not interrupt the production process. BOBST worked closely with ADAMS' technicians to ensure the set up was to their requirements and ran smoothly.
Anna Skrzyniarz, Vice President at ADAMS added: "We regard BOBST as a reliable partner that offers the latest solutions on the market and guarantees after-sales service and availability of spare parts. As a partner, BOBST works with us to customise their products precisely to the needs of ADAMS, which is why we keep investing in new technologies with them.
"As a family-owned company, we value good, long-term relationships with our business partners. It's why BOBST is a perfect match with our business model. For ADAMS, they are a trusted, reliable partner and work closely with us to customize their range of products to our needs. The support from BOBST is excellent – we can always count on them!"
Anello Meloro, Product Sales Director at BOBST, said: "VISIONCUT is the ideal die-cutting solution for our highly-valued client, ADAMS. It ticked the boxes for all their needs in terms of performance, versatility, size and efficiency. We are delighted to have once again been able to supply them with a machine that delivers on all their touchpoints.
"It's a momentous occasion for BOBST to have sold its 300th VISIONCUT, particularly following so closely to the same milestone for MASTERCUT. It is testament to BOBST in being able to deliver a wide portfolio of machines which meet the needs of customers operating in a variety of markets and at all levels of production."