Ratingen, Germany – Swindon, England-based Eco Signs has increased its capacity – delivering a greater number of jobs produced on a broader range of substrates – using an EFI™ VUTEk® 32h hybrid flatbed/roll-to-roll LED inkjet printer from Electronics For Imaging, Inc.

Twice the printing in 2020

"Over the last two years, we have been stepping up our production facility due to ever demanding and increasingly tighter deadlines, which consequently puts pressure on the business," said Phil Thompson, president at Eco Signs. "The EFI VUTEk 32h will have a major impact with doubling our output in 2020 and gives us an edge with LED and UltraDrop™ Technology for ultra-impressive, superb quality. That is a key priority for our business."

Eco Signs is a leading UK specialist in commercial sig
nage, focusing on designing, manufacturing and supplying a full suite of solutions to a wide range of businesses nationwide. "With the new VUTEk 32h, the company will be able to drive down costs while accelerating sales and boosting productivity," said Thompson.

EFI technology and environmental considerations

The newly installed, 3.2-metre (126-inch) wide device is the company's third EFI printer purchased within the last two years including, most recently, an EFI VUTEk LX3 Pro hybrid LED printer. Previous VUTEk LED printer purchases allowed Eco Signs to achieve greener printing thanks to EFI's energy-efficient "cool cure" LED technology, which, according to research from FOGRA, can reduce energy usage by up to 82% compared with other superwide-format drying or curing methods. Plus, Eco Signs' customers like the high-quality imaging possible on VUTEk LED printers, with 7-picolitre-drop imaging, highly opaque white ink and multilayer printing.

"The way in which the EFI VUTEk LX3 Pro has changed our business has impacted us much more than we anticipated," Thompson said of his previous VUTEk purchase. "We have been impressed with the UltraDrop and LED technology, which has helped drive down operating costs and waste and allowed us to have a better environmental footprint being 'Eco'."

The EFI Fiery® proServer Premium digital front end Eco Signs uses in its superwide-format production operations enables fast job preparation and colour management for excellent results on a broad range of substrates. "The EFI Fiery software has definitely given us more control over our colour profiling," Thompson said.

For more information on EFI VUTEk superwide-format products for high-quality display graphics production, visit www.efi.com.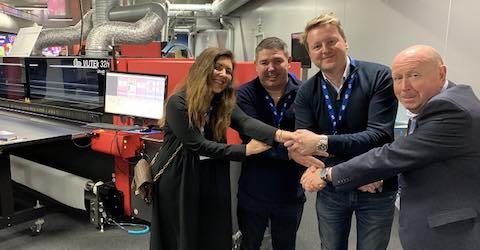 Eco Sign's team poses with their new EFI™ VUTEk® 32h hybrid flatbed/roll-to-roll LED inkjet printer.