Industry Insight
PURE Labels: Going Beyond Green
PURE Labels and other products from Distant Village Packaging are environmentally low-impact, but there's more to the story than being green.
By Peter Nowack
Published: May 7, 2010
In the last week or so, we've been reporting on some alternatives to wood-pulp-based paper. One product line that didn't make the leap into cyberspace last week is
PURE Labels
.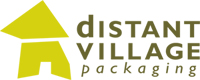 According to the manufacturer, Chicago-based
Distant Village Packaging
, PURE Labels are produced with 100% recyclable, treeless materials – in this case wild grass fiber.  DVP stated on its website that that the labels also use a recycled liner and a "recyclable adhesive." When asked about the nature of this recyclable adhesive,  Distant Village siad that PURE Labels use a recycling-compatible adhesive (RCA). RCAs are formulated so as not to gum up the works of recycled paper mills, but the adhesive itself is not recyclable – it gets skimmed off and ends up in the mill's waste streams, not in the recycled paper. So the claim about using a recyclable adhesive is, well, simply wrong. But there's a silver lining to this little green cloud. When I called the non-recyclability of the adhesive to the attention of Distant Village Packaging's founder,
Richard Cohen
, he immediately agreed that the claim was an error (made by an intern) and that it would be promptly corrected (it was - within 24 hours of the mistake being called to Cohen's attention). In this world of marketing hyperbole and out-and-out greenwashing, I found his accountability to be kind of refreshing. Cohen's accountability isn't the only thing unusual about Distant Village. While it's PURE Labels and its other packaging products are environmentally low-impact, that's not the big story. As Cohen put it, "to make sustainability work, the products themselves need to be valuable to customers – and that value isn't just because they are green." The big story about Distant Village is that it takes sustainability beyond the boundaries of raw materials and into the social fabric of life. All of Distant Village Packaging's products are manufactured in small-scale workshops in third-world, economically disadvantaged communities. There, artisan workers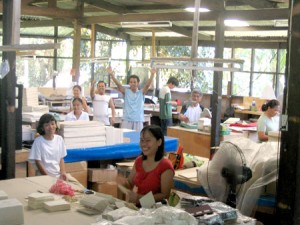 use hand-crafted methods, including solar and steam heat and manual assembly – that minimize energy consumption and the waste typically associated with machinery and automation. And instead of the exploitation found when one looks under the rocks of some "indigenous" looking products, the community workshops from which Distant Village sources its products are operated according to the principles of fair trade, including those addressing wages, worker treatment and working conditions. In addition to providing contract work, which creates jobs and develops marketable skill sets, in communities plagued by the inconsistencies of sustenance farming or fishing, Distant Village contributes directly to the communities with which it works through scholarship programs, disaster relief aid, sponsorship of cultural events, promoting healthy exercise and nutrition, supporting one-on-one mentorships, and other community initiatives.  Cohen says that the process of qualifying an artisan community workshop as a Distant Village supplier takes about a year. He uses a four-step vetting process. The workshop must make quality products. It must demonstrate reliability and dependability (something that is not all that common in developing economies). There must be uniqueness in the workshops product and process. And the workshop must be interested in and have the potential for the "three legs" of sustainability – environmental responsibility, social equity, and economic viability over the long term. The vetting process is important. Distant Village Packing's brand-name customers are now placing orders in quantities of tens of thousands of pieces. More information about Distant Village Packaging can be found
via this link.