Industry Insight
HP Bans Export of Non-Working Electronics to Developing Countries
My 6-year old HP Deskjet gave up the ghost - with vengeance! At first I worried that once I got my new one, my old one would become third-world toxic waste. HP assures me that when I send it back to them with their UPS call tag, they won't export non-working electronics to developing countries.
By Gail Nickel-Kailing
Published: February 15, 2010
How many times a day does this happen?
Someone somewhere is typing away finishing up a document and pushes "print" to make a hard copy. The printer lights blink, the print heads start moving back and forth, and - suddenly - the printer starts to shudder and strange noises come out of it. The print heads seem to be attempting to pound their way out of the side of the machine...
Well, something like that happened to me a week ago. Actually I had been expecting my 6-year old
HP Deskjet
to give up the ghost any time. And it did - with vengeance! A quick check on the Internet found me a new machine at a reasonable price. So what to do with the old one? HP has a "take back" program that solved my problem! I filled out the form and got a UPS call tag to put on the box. When the new one arrived, I packed the old one up in the same box, put the call tag in the clear envelope available at the mailing service next door, and left it for my favorite UPS guy to pick up. No fuss, no muss... At first I was a concerned that my piece of non-working plastic would be sent off to some third-world country for dismantling and "recycling" but I don't need to worry.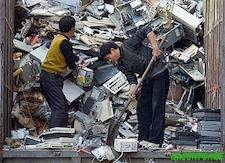 HP is
banning exports of non-working electronics to developing countries
. The company does not permit electronic waste to be exported to developing countries, either directly or through intermediaries. The policy allows the export of materials defined as non-hazardous by the Basel Convention, and working equipment and parts not intended for disposal or recycling but for donation, reuse and resale. It also permits the return of components to the original equipment manufacturer that are under warranty and materials to be used in manufacturing that do not require further processing or preparation. HP says e-waste processed by the company and its authorized vendors is tracked and documented throughout the entire chain of custody until final disposition. HP audits its recycling, refurbishment and processing vendors annually to ensure they conform to its vendor requirements for hardware reuse and recycling and supply chain social and environmental responsibility (SER) policies. Now I can rest easy knowing that I'm not contributing to toxic e-waste somewhere!