Industry Insight
It takes a village… to make a change!
Grounded as part of a travel cost reduction program at HP,
By Gail Nickel-Kailing
Published: December 8, 2009
Grounded as part of a travel cost reduction program at
HP
,
Tara Agen
began to search her local territory for new ideas and opportunities. She joined her local Chamber of Commerce and started thinking more and more about what small and medium-sized businesses were doing to be more environmentally responsible. And she wanted to help.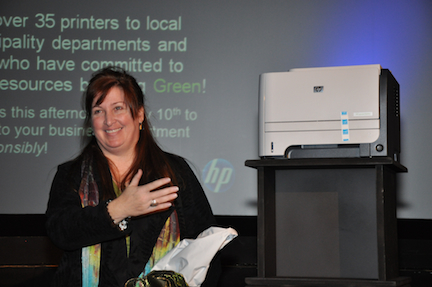 Responsible for LaserJet and enterprise solutions business strategies and part of
HP IPG's Environmental Leadership Team
, Tara took a creative new look at her community, the village of
Suffern, New York
. Suffern (population: 11,000) is located in the town of Ramapo on the New Jersey border. Spearheading a new environmental initiative, Agen brought together her community, her HP team, and
ASI System Integrator
(an HP partner). As a result, HP and ASI System Integrator analyzed printing practices, paper and energy costs, and energy consumption for 25 small businesses and local governmental organizations to establish a benchmark and estimate cost and energy savings.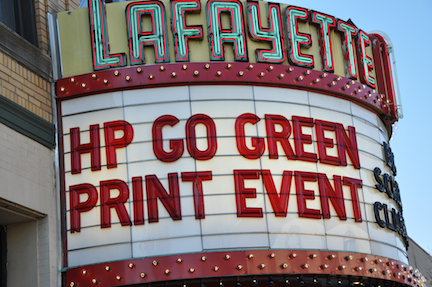 Then in early November the inaugural group was outfitted with HP LaserJet printers and HP shared key printing practices to reduce their environmental impact. Based on the original estimations, HP, ASI System Integrator, the Village of Suffern, and the Town of Ramapo, will work to reduce the businesses' energy consumption, carbon footprint, and energy and paper costs. Using a "show to teach" approach, Agen hopes to inspire other small businesses across the nation to implement similar environmental printing practices.
WhatTheyThink
caught up with Tara to hear more about the new community-wide environmental initiative and her vision for helping small businesses cut costs, be more environmentally responsible, and more successfully market to their prospects and customers.
WTT: What started you thinking about your local community of small and medium businesses? How did you come up with the environmental initiative?
TA: It started almost a year ago, when HP began to look at ways to respond to the recession by reducing costs. Cutting travel costs meant that I had a lot more time to get more active in my own community. I joined a local business network and saw that local businesses were not only trying to generate more revenue and cut costs, but a lot of them were trying to be more environmentally responsible. When it comes to printing and IT overall, these businesses have limited resources, both time and money, so I wanted to take a different approach. I learned more about their businesses than I ever would have by just studying HP's market research. I started to better understand how complicated printing can be for small businesses, whether they are trying to communicate with customers and prospects on 8 ½ x 11 sheets, develop marketing communication pieces for a "store front," or produce direct mail pieces. It all started as a way to help them better communicate their value propositions to their customers. Luckily, I had colleagues who were willing to let me brainstorm and were willing to do this with me.
WTT: So you were looking not just at office printing but document usage across the board for small business?
TA: That's right. We had conversations that focused more on "what do I really need to print, what's valuable, what's the on/off ramp of digital workflow?" Take for example a small insurance company owner who handles a lot of claims. He wanted to know if he should be uncoupling scanning from fax, copy, and print functions. What should he be saving; what should be stored digitally, what should be stored as hard copy in a file? These are the kinds of conversations that I've found fascinating around this project.
WTT: How did you arrive at the final form of the project?
TA: Our Chamber of Commerce has about 75 members and most are service-based businesses, rather than retail. We took a closer look at that group and came up with 25 organizations that ranged from micro-businesses with fewer than 10 employees to larger companies with as many as 100 employees. Together with ASI System Integration we analyzed their document and printing use from a variety of points. For example, what are they printing? Are they duplexing? How much printing do they do every month? How much paper are they using? We also looked at black & white as opposed to color, small format versus large format. Rather than limit our calculations to just small businesses we added key organizations like the library, police department, waste management services, village government, and some town-level groups as well. We then applied our carbon footprint calculator to all those pages and built individual calculations that rolled up to a total for the community. We wanted to know what people were doing to set a benchmark with their current use. From there we estimated how they could conserve energy, save paper, and go green. Our value proposition was to better understand the needs of small and medium-sized businesses. We are really committed to this community project and, with the help of the local Chamber who gave us entry to these businesses and to our village and town governments, it really started to become something. It wasn't meant to be a give-away of free printers.
WTT: Do you have preliminary estimates of the effect of this project?
TA: Based on our assessments we project that we can reduce overall energy consumption up to 60%, paper use as much as 37%, combined costs of energy and paper usage up to 38%, and overall carbon footprint up to 41%.
WTT: What's the next step? Where do you go from here?
TA: We have made a very big commitment to our community; this is not just a "drive by" project. By looking at both office and graphics printing we are trying to understand what we can do differently to make this a truly environmentally responsible print community.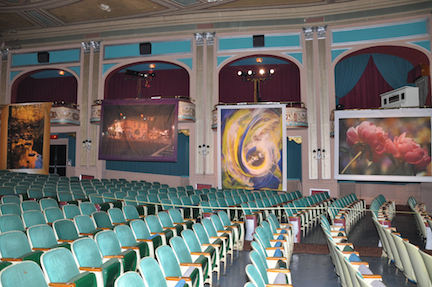 An action that highlights the intent of this project is what we've done with the banners from the rollout event. We promoted the initiative with superwide banners printed by
King Displays
of New York City and hung on storefronts and in the theatre where we had our launch event. We're turning those into tote bags for merchants to show how large format signage can be reused and recycled. We're thinking about all our community's printing needs and how HP can help them. Perhaps we'll be placing units of our DesignJets inside a local printer who can then offer community printing for Chamber members, non-chamber Members, local nonprofits… and do it more responsibly. Beyond that, we will add more local businesses and continue to work with the town and village governments. There is an interest within HP to go beyond printing that has developed in the PC/Laptop and server groups, for storage and services as well.
WTT: I would expect that when other smaller communities hear about this program, they are going to want to get on the bandwagon with you.
TA: You bet! We will encourage them to do so. We are trying to figure out how to make it easy for them to engage. We have a partner here with ASI System Integration who loves what they can do in this market place. We're in the process of trying to figure out how to do this with our partner network. That's how we will make it run successfully.
WTT: How does this affect you personally? What has this project done for you?
TA: Technology service providers and manufacturers all talk a good game when it comes to small business: "We're here for small businesses, we really know small business…" I can tell you, small and micro businesses are not always top of mind when vendors and suppliers have to choose between targeting corporate enterprise and mid-market or small business. When I look at the growing unemployment rate –I ask myself where are those people going to go? They will have to rethink their skills and they may go someplace entrepreneurial to join startups that will become the next big names. They will possibly hang out their own shingle. That's how we evolve our economy… Unfortunately they may not really understand how to brand their companies, how to communicate their value propositions. We donated three copies of the Logoworks by HP 'Gold Package' to the Chamber. They may use them for fundraisers, or they may use them to work with designers to help local businesses create new brands, build new websites, and to use print to communicate from their desktops or with commercially printed materials. I worked with a lot of teams to turn this dream into a reality. I told them about my passion for small business and we pulled it all together. In order for us to turn the economy around, we at HP have a responsibility to help these small businesses. We are no longer a manufacturing economy; that is gone. Our community is looking for service-based businesses.  At HP, we are here to give back to the community, to help businesses not just survive but thrive through the power of print.