Bielefeld – Based on its innovative strength, BST eltromat International continues to expand its market-leading position as a manufacturer of innovative solutions for quality assurance in the converting sector. Under the motto "Helping You Excel – from Pre-press to Delivery" the company is underlining this message with two exhibition booths at this year's ICE Europe (March 12 - 14, 2019, in Munich, Germany). BST eltromat will present a variety of new and enhanced solutions for quality assurance in the finishing and converting of flexible, web-shaped materials at its main booth in hall A6 (booth 480) as well as at its booth in the Special Film & Extrusion Area in hall A5 (booth 1774). The company focuses on paper, film, foil and nonwovens.

Networking options in web guiding
One focus in Munich is the company's various web guiding systems. For example, the FVG POS 100 sensor positioner will be shown in combination with the CLS PRO 600 line and contrast sensor, which can be motor-driven to the desired positions in this configuration. The positioning data is entered via the intuitive ekr 500 digital Unit Touch controller or fed into the application via an external bus connection. The bus connection reduces the setup times of the web guiding system by about 30 to 40 percent with increased operational reliability. This demo-unit will demonstrate the wide range of applications of the CLS PRO 600 and its ability to control and automatically position webs on the basis of objects, lines and contrasts. Additionally, the demo-unit shows the particularly high ease of use of the ekr 500 digital Unit Touch. Furthermore, BST eltromat will show its modular, flexibly configurable standard web guiding system CompactGuide for narrow web applications. The WideArray sensors from its subsidiary AccuWeb, and the high-resolution CCD CAM 100 line scan camera complete the presentation. "In addition to the flexible configurability of our web guiding systems for countless applications, the wide range of sensors we offer is one of the main reasons why so many converters around the world use these systems. Our portfolio of various web guiding systems and sensors is correspondingly strong again this year at our booth at ICE Europe," says Ingo Ellerbrock, Head of Product Management at BST eltromat.

Software modules for upstream processes
With COLOR DATAPreparation and SMART DATAPreparation, BST eltromat shows two new options for the iPQ-Center to support workflow at customers.

COLOR DATAPreparation simplifies the setup of the iPQ-Spectral inline spectral color measurement. The software is installed in pre-press, production planning or quality management, which will prepare the data for inline spectral color measurement. Measurement positions and L*a*b*, density or tone values can be entered manually or imported in the form of CxF files. COLOR DATAPreparation then generates virtual print control strips and transfers them to iPQ-Spectral before printing begins. iPQ-Spectral is set up automatically. SMART DATAPreparation even goes one step further: This option links the iPQ-Center with ERP systems (Enterprise Resource Planning), for example. Order data such as job names and numbers, formulations, reference values and measurement positions can then flow directly from these systems to the iPQ-Center. The first customers have already installed COLOR DATAPreparation and SMART DATAPreparation in their systems, and these features are significantly shortening setup times, an increasingly important factor for efficiency in view of the constantly shrinking job sizes.

New features for the inspection portfolio
BST eltromat will also show the iPQ-Check module for 100% print inspection. Customers can now use iPQ-Check with up to four 3-chip line scan cameras to cover web widths up to 2.90 m with high-resolution print inspection. In addition, visitors will also see BST eltromat's Rewind Navigator, which enables efficient post-processing of the inspected material rolls. Finally, the company will show the TubeScan Digital Strobe 4k from its cooperation partner Nyquist Systems for high-quality print and surface inspection in narrow web printing. The system is equipped with innovative 9-megapixel camera technology "Made in Germany" and is the world's first 100% hybrid-based inspection system with a resolution of 4k to produce 100% image reproduction. The 4k camera has been available as an option for the entire TubeScan portfolio since the beginning of 2019.

High-end solutions for register control and ink fountain control
In the field of register control, BST eltromat is presenting the new AR 4400. This economical system for setting the register in offset, hybrid and label printing machines features BST eltromat's intuitive touchscreen user interface and enhanced functionality. For example, the adjustable backlight now permits even more precise control of the front-to-back register. BST eltromat is presenting the AR 4400 in combination with the FSS 15 ink fountain control, which was developed for offset printers requiring the highest level of precision in ink settings. The AR 4400 and FSS 15 guarantee the most brilliant print results with the shortest setup times and simplest operation. "Offset printing will remain a core market for BST eltromat. In presenting the AR 4400 for the first time at a European converting exhibition, we are consciously sending a signal that we are continuously developing our solutions for register and ink fountain control in offset printing," promises Dieter Jochmann, Product Manager for Register Controllers at BST eltromat.
Measurement of layer thickness and basis weight
At the BST eltromat booth in hall A6, the BST ProControl business unit will also be conducting demonstrations of the flexible uses of the PC16S®-wave TS transmission sensor, which operates with non-ionizing electromagnetic waves (no permit needed). This sensor was presented as a concept sensor for the first time at ICE Europe 2017. With its non-contact absorption measurement method in transmission, the sensor measures the weight per unit area of polymer-based mono foils with great precision and speed. Typical applications include measurements on flat materials as well as the control of calenders and flat-film extrusion lines. At this year's ICE Europe, BST ProControl uses a technical study to show the additional opportunities that result from the enhancement of this sensor type. The new PC16S®-wave RS reflection sensor can be used to measure coatings on metallic films, for example for food packaging. As in the case of the PC16S®-wave TS, the measurement is based on the absorption of reflected non-ionizing electromagnetic radiation.

Innovative sensor applications
At the booth in hall A5 in the Special Film & Extrusion Area, the innovation management of BST eltromat will show how it handles innovative sensor applications and sensor networking. For example, the team will present high-precision layer thickness measurement of highly effective barrier foils, optical and weather-resistant architectural films and very thin functional films with layer thicknesses as small as 3 µm. The sensor positioner FVG POS 100 including width measurement from BST eltromat will be combined with the IndiSpectro® sensor for coating thickness measurement from BST ProControl. The combination of the two measurements makes it possible to optimize and simultaneously guarantee the required layer thicknesses by controlling the extruder screw. To display data to the user, it is brought together on the PROSolutions visualization and operating platform. This links the quality assurance systems from BST eltromat via a uniform user interface offering maximum ease of use. "This presentation will underline the added value for our customers that results from cooperation between the different business units of BST eltromat. This added value is primarily based on the digital interconnectedness and communication capability of our components along the entire value chain," explains Dr. Michael Dattner, the company's Innovation Manager.

"ICE Europe traditionally offers BST eltromat an ideal environment to present the breadth and variety of its portfolio for the very diverse requirements of quality assurance in the finishing and processing of web materials. We are already looking forward to interesting discussions about the latest quality assurance tasks in the various conversion segments, in which our company is an ideal point of contact," says Anne-Laureen Lauven, Head of Marketing at BST eltromat, in anticipation of ICE Europe 2019.
• More information available at: www.bst.group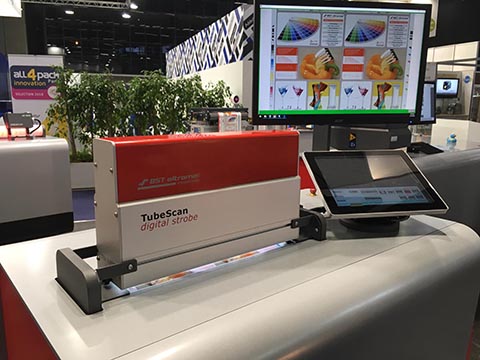 Visitors will see the TubeScan Digital Strobe 4k from cooperation partner Nyquist Systems for high-quality print and surface inspection in narrow web printing. TubeScan Digital Strobe 4k is the world's first 100% inspection system on a hybrid basis with a 4k resolution to generate 100% image reproduction.