Mary Jo Johnson of EO Johnson, Ragni Mehta of Xerox, & Anneliese Olson of HP
Annual Showcase of Women Business Technology Leaders is Largest Issue Ever in History of Leading Business Publication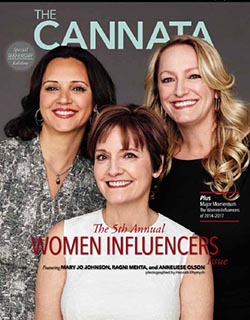 Hamburg, N.J. – The Cannata Report, the leading intelligence resource for business technology and imaging solutions resellers, features EO Johnson's Mary Jo Johnson, Xerox's Ragni Mehta, and HP's Anneliese Olson on the cover of its 2018 Women Influencers issue (July/August 2018), the largest issue in the publication's history.
"We are especially proud that our 2018 Women Influencers issue is our personal best," said CJ Cannata, EVP and publisher. "We are committed to showcase the diversity of talent in the business technology industry and are thrilled that our Women Influencers franchise has been so well received by the industry and supported by a record number of advertising partners as it continues to grow and expand. Its success speaks volumes about the contributions women make in this industry."
The Cannata Report's Women Influencers editorial franchise, presented by AMETEK ESP, is celebrating its fifth anniversary this year. A brunch saluting the 2018 Women Influencers will be held November 9 in conjunction with The Cannata Report's 33rd Annual Awards & Charities Dinner.
"It is our pleasure to serve as the exclusive sponsor of The Cannata Report's Women Influencers franchise," Dave Perrotta, business unit manager, AMETEK ESP. "We share The Cannata Report's passion to promote the many talented women in our industry whose achievements are immeasurable. These standout executives serve as role models for all women, no matter what business or industry."
In the cover story of the summer double issue, Johnson, the first dealership executive honored as a Women Influencer, along with Mehta and Olson, share their similar beliefs regarding the power of diversity and discuss how it stokes creativity and drives innovation. In addition, each executive opens up about their unique career paths and provides insight into their leadership positions.
Mary Jo Johnson, CEO and owner, EO Johnson Business Technologies
Johnson's guiding principle is simple: lead as a servant. Since taking over her father's business in 1999, Johnson has leaned on this core value to help her not only continue her father's legacy but also create one of her own by growing EO Johnson and establishing the dealership as one of most forward-thinking in the office technology industry, offering managed print services, production print services, document management and IT services. "We have been able to augment our print businesses with these other solutions that customers were either asking for or didn't know they needed but they knew they had these pain points, and we knew we had a solution." Says Johnson, "Diversity drives innovation," adding, "We have all these different minds, different experiences. When you get a diverse population, you can drive more creativity when you work as a team."
Ragni Mehta, VP and general manager, cut-sheet business, Xerox
For Mehta, evolution defines her nearly three-decade career at Xerox. In her current role, she focuses on the high-end production space, managing the overall lifecycle of cut-sheet products. She and her team work to identify product strategy, opportunities in the market, setting goals and objectives to identify what those offerings should be. "In a mature market, over time in order to be successful, we really need to be thinking beyond the box itself to really help customers solve problems," she said. "We need to think about things from an end-to-end application perspective."
Anneliese Olson, VP and general manager, home print solutions, HP Inc.
Olson has spent her nearly 25-year career at HP traveling the world, helping the company drive its transformation in the technology market. Living and working across countries has reinforced Olson's conviction in HP's efforts to fully integrate its technology into its customers' lives, especially as their work and personal lives continue to converge. "We talk about 'one life' as the overarching strategy for print," said Olson. "It isn't just home, office, or industrial. It's the fact our customers are living one life and it's 24/7. A day in the life of customer means sometimes they're on a plane, at home, in an office, in a coffee shop. We're looking at how we're making a blueprint for them."