PCS HighProtect combines flexibility of printing with robustness to withstand even industrial-strength steam jet cleaning
BLAUVELT, NY – Schreiner ProTech, a Germany-based global leader in developing and manufacturing innovative functional labels with value-added benefits for engineering-based industries, has introduced the world's first line of printable, steam jet-resistant pressure compensation seals (PCS). Developed through a joint project with one of its automotive customers, the new PCS HighProtect features a top film custom printed using thermal transfer (TTR) printing, making it viable for use as an information label or nameplate.
PCS HighProtect offers automotive OEMs and suppliers a venting solution suitable for customized inline printing, allowing them to eliminate a process step and save associated material and maintenance costs. In this fashion, the PCS serves dual roles of identification and protection, all while streamlining production.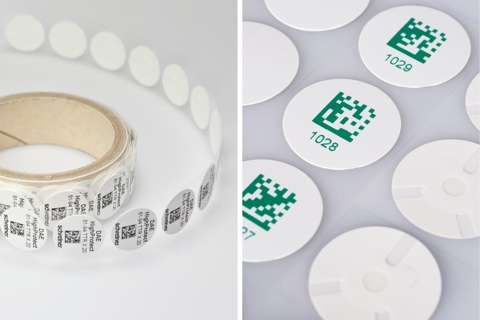 A pressure compensation seal is a watertight, breathable membrane used to vent electronic housings, similar to a valve. The membrane ensures effective pressure compensation while preventing the intrusion of water, dust or dirt into the housing. In spite of their minimal height, the robust PCS HighProtect products can withstand even industrial-strength steam jet cleaners.
Until now, pressure compensation seals have not been printable.
"When a customer specifically asked if printing might be possible, we developed a suitable solution within a few months and are now able to offer the innovative result to other customers as well," said Adrian Marggraf, Product Manager for Schreiner ProTech.
Due to its customized design, PCS HighProtect visually functions as a marking label. And though the pressure compensation membrane's small ventilation hole – necessary for emitting the heat produced during electronics operation – does not show through the wear-resistant top film, the PCS still effectively serves its original protective purposes.
Mr. Marggraf sums up the advantages: "The modular concept of our printable pressure compensation seals makes various combinations possible, depending on customer needs. Be it round or angular shapes, or color printing incorporating a logo or QR code, we will find the appropriate solution for any inquiry. Even a combination with our Color Laser Film is conceivable. Driven by our commitment to customer satisfaction, we continually pursue new approaches and make them reality. As a result, Schreiner ProTech creates progressive evolutions of previous solutions."