Who can crease the most greetings cards in 60 seconds using the hand cranked, manually operated CreaseStream mini and win the £1,500 unit outright? This was the challenge set by CreaseStream LLP to co-exhibitors and visitors alike that attended the recent Progressive Greetings Live 2013 show, held at the Business Centre in Islington, London on 14-15 May.
The competition was tight until Katrina Wight stepped up to take her turn, and having confessed that she had never won anything of real value, she didn't fancy her chances - yet her score of 47 beat her nearest rival by a clear 7 cards. Katrina, who specialises in creating her own hand drawn illustrations of dogs and cats and adapting them for her brand of greeting cards, was delighted with her triumph, she commented; "I use a scalpel to crease my cards, which works ok, but the CreaseStream produces a better result and is much, much faster, enabling me to create products that are more cost effective."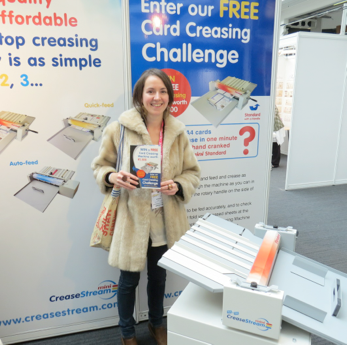 Katrina presently runs her company under her name, Katrina R Wight, but is expanding fast and is looking to change this soon. As well as being fun, Katrina's products are of high quality and integrity, one of the principal aims of her business is to be environmentally conscious – all of her products are currently made using 100% recycled card and paper.
Graham Harris, the founder of CreaseStream LLP was delighted that such a gifted person with artistic ability and strong views about the environment should win his machine, he explained; "There is some synergy between us, we also work hard to produce something unique and creative that is less harmful to our environment, many of our products require no electrical input, yet can produce more output than those that rely on such appliances."
The CreaseStream mini range starts with the manual hand fed version, the user simply feeds materials from 75-400gsm and up to 52cm in width, whilst turning the handle to drive the stock through the tooling shafts. The secret is in the patented rubber creasing devices that mount the shafts to create the quality finish customers require, the gentle application isn't destructive and it prevents the common problem of cracking when folding is implemented. Optional micro-perforating devices can be set to give users more scope to produce a wider range of finishing applications. The Quick-feed version is supplied with a clever sheet feeding mechanism that speeds up output to an average of 3,000 sheets per hour. The handle is discarded on the Auto-feed version as it is motorised and will easily produce over 4,000 sheets per hour.
During the duration of the London show, the CreaseStream team set out to demonstrate how their innovative series of cost effective creasing solutions could meet the needs of card designers and buyers that may be looking for ways of improving their finished products, and the competition they ran helped to generate invaluable feedback.
According to Harris, creative designers fall into three categories, they use basic scalpels or rulers to score their card stock, they buy in pre-scored substrates or they outsource their artwork so their local printers take care of everything. Because of the growing popularity of card creation coupled with the increase in digital print processing, the problems of cracking are becoming more evident, and there lies an opportunity.
Harris feels that there aren't enough simple and straight forward creasing solutions in the market to accommodate designers who cannot justify the cost of an automatic machine, he explains; "Those that produce greetings cards have always improvised using basic hand tools that are available through craft shops, why would they want to pay thousands of pounds for something that is more relevant to the high street printer? Our rotary method of creasing lends itself to this market because it is faster and more accurate than most of the "clumsy" types of desk top solutions in the lower price bracket. We are partly there and can address some of the market, and now we are working to develop something to suit the majority, this show has taught us a lot."
To see videos of the CreaseStream machines in action, go to www.creasestream.com