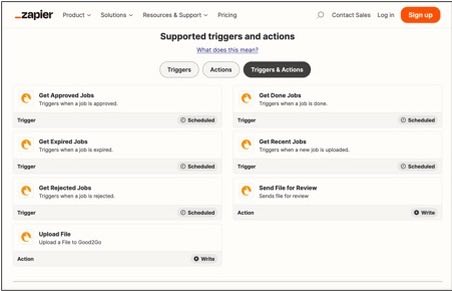 The Good2Go Zapier integration. Triggers are used to start a Zap. Actions are used to execute a task.
Good2Go joins the Zapier workflow automation community expanding its cloud-based automation capabilities
Shickshinny, PA, USA—Today, Good2Go Software announces the release of their Good2Go App for the Zapier no-code workflow automation platform for cloud applications and services. In this release Good2Go is providing several workflow triggers to initiate a workflow and two key actions that will execute tasks such as "Send a proof" from the Good2Go cloud service. The Good2Go integration is available today on the Zapier platform at Zapier.com.
"We're super excited about our release on the Zapier automation platform," said Michael Reiher, president, and co-founder of Good2Go Software. "No code automation is the future of application integration and Zapier is one of the leaders in the market with over 5,000 business applications available today."
No-code automation platforms allow both professional integrators and non-technical users alike the ability to integrate through graphical user interfaces and definition wizards versus code programing. Plus, the no-code platforms like Zapier provide a centralized interface for all applications making those applications compatible with other applications that support the same platform.
"Business automation is the closest thing I know of to a "cheat code" for leveling up your business," said Richard Schnitzel, president of a business automation firm. "Platforms like Zapier are at the forefront of no-code automation for entrepreneurs, and for solutions like Good2Go, Zapier creates opportunities for them to better serve their customers in ways not possible without business automation," continued Richard.
Rich owns and operates a "done-for-you" automation company helping 6 figure entrepreneurs build the automation they need to scale their business to 7 figures and beyond. He teaches entrepreneurs how to level up their business through automation strategies that put the emphasis on delivering amazing experiences to your customers and relieving the stress of running a successful business.
"One of the things we really love about supporting Zapier is the variety of solution available now for Good2Go users," said Michael Reiher. "Everything from Customer Relationship Management (CRM) solutions to payment platforms are now available to our users — and not just one choice, but several options for most product categories."
With many traditional workflow automation platforms, MIS solutions and Web to Print services made for the printing industry, end users must rely on the developing company to integrate with other third-party applications. This can take time, provide a limited selection of compatible applications, and become costly when custom integration is needed to complete desired solution. With the no-code platforms, third parties all develop to the sample platform, so once an application is part of that platform, it's compatible with all the other applications and services.
Examples using non-print related applications
When a Job is marked as "Done" in Good2Go, that could trigger an invoice email from Quickbooks, or a payment link from Paypal, Stripe or Square.

When a Proof is sent from Good2Go, that could trigger a text message notice from Simple Texting, RingCentral, or several other text and SMS services.

When a job has expired in Good2Go and ready for removal that could trigger the file to be automatically backed up to a private Amazon S3 Bucket, One Drive, DropBox or many other file storage services.

When a Job is marked as "Done" in Good2Go, this could trigger a follow-up marketing campaign event in a CRM like Salesforce, Pipedrive, Zoho CRM, Zendesk and many more.

Examples from a Zapier compatible MIS
A job defined in an MIS, when set to "Proof" could send a PDF file, and email to Good2Go to send out a proof for approval.

Good2Go can send an updated status to an MIS when files need changes or have been approved for print.

A quote from a MIS could be uploaded into Good2Go and sent out for client approval.

Our Position on Automation
Zapier represents our first investment in no-code automation platform, and we will continue to invest in this automation category. We are also committed to expanding our support for ground-based automation platforms such as Enfocus Switch and maintaining a vibrant API for custom integration for integrators and third-party developers who would like to leverage Good2Go services.
More information
Print service providers, integrators, or third party developers who want more information or would like to evaluate our Zapier integration should write [email protected] or visit www.Good2GoSoftware.com to learn more about Good2Go and our automation services.