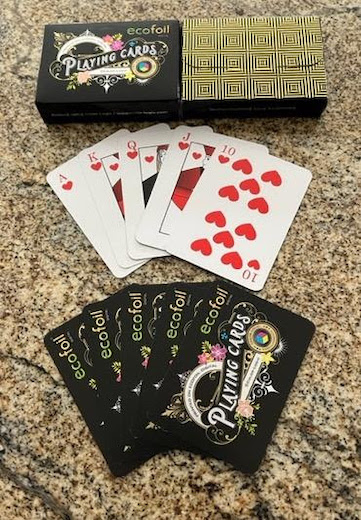 Color-Logic / Ecofoil Digital Playing Cards
West Chester, OH, USA--Color-Logic developed the design and Ecofoil Digital printed a deck of cards recently distributed to Ecofoil customers. The cards were produced using Ecofoil Digital substrate, by a licensed Color-Logic printer in the UK. Commenting on the unique metallic cards with Color-Logic embellishments, Color-Logic Director of Sales and Marketing Mark Geeves said: "Printing these beautiful cards using Ecofoil Digital left nothing to chance. The Color-Logic embellishments and metallic colors on the Ecofoil Digital substrate produced predictable and repeatable results on both the cards and the accompanying playing card case. Ecofoil Digital substrate is certified by major digital press manufacturers that also support Color-Logic. In addition to the playing cards, a variety of other Color-Logic files are currently being shown by Kelly Spicers, the Ecofoil Digital distributor in North America."
Geeves continued: "Ecofoil Digital is a great product and a great partner on digital printing projects. Ecofoil Digital is compatible with all our major digital press partners, which makes working with them very easy. In addition, Ecofoil Digital substrates are certified plastic-free and fully recyclable--attributes that many brands are looking for today. Kelly Spicers distributes Ecofoil Digital across North America, so clients can easily access the substrate."
Mark Kempster, Ecofoil Founder and Managing Director, commenting on the Ecofoil/Color-Logic partnership, said: "Partnering with Color-Logic for this project was an easy decision. Because Ecofoil is an OEM-certified media, it is important that our customers are able to create complex foil embellishments while using a repeatable and measurable process. Partnering with Color-Logic gives Ecofoil customers exactly this assurance. Our partnership enables customers to create and reproduce foil-embellished designs that are simply not possible via any other process. And with the added benefit of Ecofoil being 100 percent recyclable, we believe this offering is unrivaled anywhere in the global marketplace,"
For more information, visit www.color-logic.com or call +1-513-258-0047.