MAXSON AUTOMATIC MACHINERY COMPANY, (Westerly, R.I.), offers a collator stacker design that accurately identifies pack counts as small as 5 sheets and as many as 2500 sheets without the need for marking the count by a tag. The design reduces set up time, eliminates housekeeping and assures count reliability.
In this design, air is introduced into the back of the pile to overcome static build up and on lightweight material improve pile quality. The side and trailing edges of the sheet are jogged into "press ready" quality piles using a full width vibratory plate along the back edge and vibratory side jogger blades that are easily adjusted. The side jogger blades are mounted on slide assemblies avoid damage when accommodating different pallet heights.
The front stop assembly and the back jog assembly are designed to offset by 0.5" (13 mm) the front to back location of the piles, alternating the position of each ream based on a preset count.
In this collating design, the front stop assembly has a ½" (13 mm) thick stop across the face of the assembly that is lowered (and raised) in front of the front stop by air cylinders. In alternating ream counts, the stop drops down against the top of the pile after the last sheet of a ream count enters the stacker. At the completion of the next ream count, a solenoid governing the position of the stop raises it up out of position to allow the leading edge of the sheet to reach the front stop.
At the same time a back jog assembly moves in and out of position in a coordinated action with the front stop's collator. This preserves the length of the jog box, while creating a perceptible identification of each ream.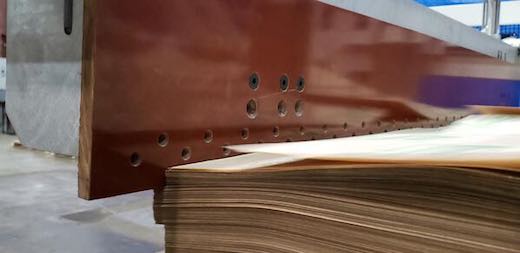 View of the Stacker Collator's Front Stop Assembly in Lower Position, Offsetting Ream Count