Bielefeld – As a manufacturer of premium self-adhesive labels for wines and spirits, Etigraph Italia S.r.l. requires a quality assurance system that meets the highest standards. Founded in 1983 and headquartered in Chions in north-east Italy, Etigraph has over the years grown into a company with approximately 70 employees. In the late 1990s, it was time to start up its first web monitoring system from BST eltromat. Today, every one of its 15 printing machines and 8 slitting machines is equipped with quality assurance systems from BST eltromat. All of the machines use web guiding systems as well as systems for web monitoring and 100% inspection. Some printing machines also have integrated register controls and ink fountain controls.

"The complexity of our production process and the need to speed it up and continuously optimize it are what brought us to BST eltromat. Their high quality and the breadth of the product range in combination with the efficient services make BST eltromat an ideal partner for us," says Etigraph Italia President Luigi Cesselli.

"Standards are getting higher all the time for the quality and design of self-adhesive labels in the wine and spirits market," says the President Luigi Cesselli. "So, over the years, we've been continually building on our technical capabilities." Etigraph Italia supplies about 80 percent of its premium labels to the wine and spirits market. Its customers also include manufacturers of food and industrial goods that likewise have high quality standards. Depending on the requirements of the customer, the labels are produced through offset, flexographic or screen printing. The company also offers its customers quite a number of options when it comes to processing and finishing labels – from embossing and hot stamping foils to coatings, lamination screen printing, and even braille printing.

100% quality monitoring
Etigraph Italia documents its philosophy on its website, underscoring the company's high quality standards and the expressiveness of its products. "The label has its own soul. It has to represent added value for the product. The label has to enhance the product and smarten it up." Furthermore, labels should reflect the particular ideas that set products apart. Cesselli comments: "Plain white labels with a clever personal touch can be more effective on some products than intricate and involved labels."

That illustrates the complexity of the demands that Etigraph Italia places on quality assurance. In web monitoring and 100% inspection, for example, the company uses a variety of solutions from BST eltromat to satisfy various business-related and technological requirements. "We want to be able to guarantee our customers that we're supplying them with nothing but 100% inspected labels," explains Cesselli.

Pulling out all the stops for quality assurance
Etigraph Italia uses CompactGuide web guiding systems from BST eltromat to control the path of the label materials perfectly through all the printing machines, rewinders, and slitters. In that respect, they lay the foundation for the high quality of the products supplied by the company. BST eltromat developed the CompactGuide specially for use in narrow-web machines used in fields like the label sector. Available in six sizes, this web guiding system with an integrated controller is a flexible solution that can be adapted to individual requirements.

As a standard addition, the printing machines of Etigraph Italia also have POWERScope 5000 digital video monitoring systems, which are perfectly suited to web monitoring when printing labels. This compact system provides a high image resolution and a variety of options that offer machine operators many different ways to automatically monitor the printed sheet of labels.

Two highly automated rotative offset label printing machines have also been equipped with ink fountain controls from BST eltromat. In addition, Etigraph Italia retrofitted each of these machines with a 100% inspection system for defect detection. The aim here was to be able to identify and eliminate defects and deviations from the preferred results early on during the printing process. BST eltromat supplies video and inspection products specially developed for the narrow web and label industry to cover the many different quality assurance tasks in this market as best possible. These systems combine sophisticated technology with extensive features including powerful software for defect management.

In its rewinders, Etigraph Italia has been using 100% inspection systems from BST eltromat since 2009. The newer machines are equipped for example with TubeScan digital strobe systems of the latest generation. These systems from Nyquist Systems combine powerful area scan cameras with the stroboscope principle and enable reliable quality control in label packaging. They reliably detect defective labels, incorrect matrix removal and missing printing ink– even on reflective and metalized surfaces. Nyquist Systems is part of the BST Group.

Lastly, Etigraph Italia had two of its printing machines equipped with the AR 4000 register control from BST eltromat. This brought some immediate benefits, as Cesselli relates: "With the AR 4000, we reduced the setup times and the waste from these machines." The compact AR 4000 is a precision solution from BST eltromat, which is well suited to label printing machines.

"The reliability of the systems from BST eltromat plays a major part in our ability to promise our customers fast and efficient production of their self-adhesive labels," says Cessetti. The steady improvements in the ease of use of equipment is also important for the company, he adds. "With their intuitive operator interface, the systems from BST eltromat can be set up even faster than before, and they are even easier to operate."

Investments pay off quickly
All things considered, the company offers excellent value for money, Cesselli confirms: "Thanks to the efficiency and reliability of the equipment, our investments in the systems from BST eltromat have so far always paid for themselves in just a short time." BST eltromat, he adds, knows the requirements of the industry very well and always provides expert support to Etigraph Italia with its in-depth practical experience when it comes to the integration of quality assurance systems and the automation of individual process steps, for example. "The company can rely on fast and flexible responses from BST eltromat Italia, especially in challenging situations", Cesselli says. With predictable quality, stable production with few rejects, maximum reliability, and state-of-the-art technology that makes an impression on customers – the quality assurance supports the strong market position of Etigraph Italia in many respects.

"In view of the ever higher standards that self-adhesive labels are expected to meet, we will continue to optimize our processes further with investments in the latest technology for quality assurance. And BST eltromat will continue to unlock new possibilities for us in that regard with its pioneering innovations," Zucchett says.

About Etigraph Italia S.r.l.
Etigraph Italia S.r.l. was founded in 1983 by Luigi Cesselli and Federico Zucchett. Headquartered in Chions in the Friuli-Venezia Giulia region in north-east Italy, the company has approximately 70 employees and a range of state-of-the-art machines and equipment that help make it one of the country's leading manufacturers of premium labels. Its customers include well-known producers from the wine and spirits market, the food industry, and other sectors. The company has recently built an annex to give itself room for further growth.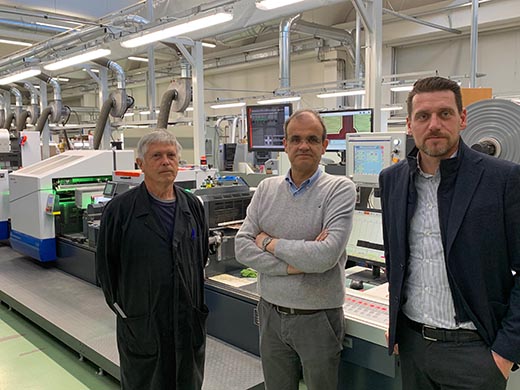 The high quality and the wide range of products in combination with the efficient services make BST eltromat an ideal partner for Etigraph Italia. In the picture (from left to right): Luigi Cesselli, Federico Zucchett und Roberto Maiocchi (BST eltromat Italia).