Every year, the Association Technique française de Flexographie (ATF Flexo) delivers awards, or FlexoStars, to the best flexographic print work in France. In 2019, the jury honored Bobst Group and its partner Graphilabel with a gold Star for their THQ FlexoCloud (Très Haute Qualité) flexographic process. Five of the brand's customers also won awards in the competition.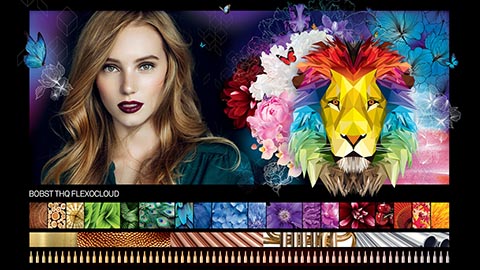 "Lion puzzle": the print work that won the 2019 FlexoStar innovation award. This visual featuring complex color patterns and tones was produced on a BOBST MASTERFLEX XL flexo printing line with the BOBST THQ FlexoCloud process. Developed at Bobst Lyon collaboratively with the French company Graphilabel, THQ (Très Haute Qualité) technology uses an Extended Color Gamut that it manages using color separation algorithms. Graphic design for Lion puzzle: Claire Gorvan Agency in Nantes, France. Anti-counterfeiting design: Securdoc and THQ SECURE modules.
Flexographic printing professionals once again recognised BOBST and its partner Graphilabel for their BOBST THQ FlexoCloud print technology. In Toulouse on December 12, the ATF handed them the 2019 FlexoStars innovation award for the print work on "Lion Puzzle", a complex graphic design visual reproduced on semi-coated EB flute corrugated board.
Awarded with a gold Star after its launch in 2017, the THQ (Très Haute Qualité) process developed by Graphilabel and Bobst Group offers a flexo post-printing solution exclusively for corrugated board. The technology can reproduce images of unparalleled print quality, and opens markets for flexographic printing that had until now been reserved for offset systems.
Effective anti-counterfeit printing
Due to the increased presence of counterfeit or pirated products in global trade (3% to 7% depending on the region), brand owners now seek protection. The color separation algorithm in the BOBST THQ FlexoCloud process offers highly effective anti-counterfeiting printing. "Nanomessages" invisible to the naked eye are reproduced to create a secure encryption solution that guarantees authentication and packaging traceability.
Extended Color Gamut process
Recent innovations have enhanced BOBST THQ FlexoCloud technology. Its algorithm already covered 65% of the colour gamut in four-colour reproduction. Now the system is enhanced with a new Extended Color Gamut (ECG) printing process. This feature makes it possible to reproduce up to 93% of Pantone© shades using just seven colors.
With ECG, packaging manufacturers can use the same inks throughout a print run: operators can therefore sequence print jobs without cleaning printing blocks; setup times are faster, and the presses produce more. To top it off, the print quality is superior and more consistent than with the traditional flexographic process.
BOBST THQ FlexoCloud for a wide range of BOBST machines
BOBST THQ FlexoCloud technology can be installed on a wide range of BOBST flexo presses and flexo folder gluers. Offered as an option on new machines , the technology can also be retrofitted on existing equipment.
Simple, fast and efficient, BOBST THQ FlexoCloud technology, available exclusively from BOBST, offers a process that is unmatched in the market:
High-quality image printing
Ultra-efficient flexo post-printing technology to reproduce images on corrugated board without the "rippling" effect and in a single run
Workflow simplified and production costs reduced substantially: 30% less water, 25% less ink and 30% savings on printing plates
BOBST customers performed well in the 2019 FlexoStars ranking
Five of the six awards for corrugated board print work went to brand customers. In the complex films, paper and aluminium categories, two gold and one bronze star were handed to converters that use BOBST machines.
Non-coated corrugated board post-printing category
Gold Star – Saica Pack Beaune on a BOBST 1228 NTRS
Silver Star – International Paper Châlon-sur-Saone on a BOBST FFG 924 NT RS
Bronze Star – Smurfit Kappa Rethel on a DRO 1628 NTRS
Coated corrugated board post-printing category
Silver Star – Saica Pack Montsûrs on a MASTERFLEX 203 MATIC
Bronze Star – DS Smith Packaging KUNHEIM on a BOBST MASTERFLEX
Complex films print category in UV ink
Gold Star – ACS Impression on a BOBST web-fed inline flexo press
Paper materials print category (plates or sleeves)
Bronze Star – Richard Laleu on a BOBST ROTOMEC
Aluminum materials print category (plates or sleeves)
Gold Star – Lysipack on a BOBST 20SIX CS
Developed by Didier Guenu, owner of Graphilabel, a French company specialized in security encryption for fiduciary and high-value documents, BOBST THQ FlexoCloud technology has been available from the Group since 2017.
The process was an immediate success on the markets. In 2018 and 2019, BOBST THQ FlexoCloud was sold both on new flexo printing lines and as a retrofit feature for customers that wanted to upgrade their machines.