Toray Technology Wins Newspaper Printers Top Recognition
Friday, January 18, 2013
Press release from the issuing company
Neu-Isenburg/Frankfurt, Germany – Waterless printing is winning fresh plaudits across Europe as judges continue to recognize the production benefits of the technology that delivers high quality and environmentally conscious print.
Print that wows
Leading the latest industry achievers was Freiburger Druck. It was again named Newspaper Printer of the Year by Druck & Medien following identical success in 2006, 2008 and 2010. This time the company that runs Toray plates on a KBA Cortina waterless press wowed the judges with its dispersion coating results following co-operation with the René Staud photo agency.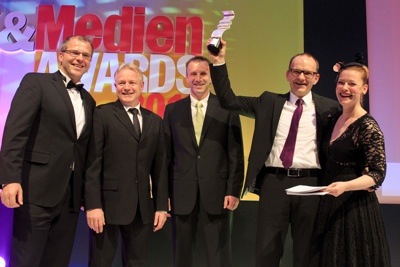 Another category finalist, and Cortina user, Druckerei Konstanz was praised by the judges, too, for its high quality waterless production that also helped it achieve energy, paper and chemical savings.
And that was not the first accolade Druckerei Konstanz has recently received. It also achieved second place in the Print Stars 2012 Innovation Award for its Job Guide supplement. Judges said it 'impressed with the high technical complexity and the perfect realization of the concept' and had a 'modern look'.
Michael Schaefer, CEO, comments: "With our innovative Cortina press we can produce high-demand printed products with efficiently and with excellent ecological balance. It is with this triple approach that we can score in the market."
European newspaper awards
This latest recognition follows the first and second places won by De Tijd, Belgium, and Trouw, The Netherlands, in the 14th European Awards for European Newspaper of the Year - Nationwide Newspaper. They were printed waterless by Eco Print Center.
De Tijd is a Dutch language business newspaper based in Brussels which has raised circulation from 36,000 in 2010 to 39,000 in 2012. It was successfully relaunched in a Berlin format in March 2012. The 105,000 circulation tabloid Trouw incorporates several pull-out supplements.
The14th European Newspaper Awards, received entries from 226 newspapers across 25 countries. The award ceremony will take place on 6 and 7 May 2013 in Vienna at the European Newspaper Congress.
Industry Acclaim
Mr Junichi Ishii, Sales Manager for Graphics and Chemicals Sections Toray International Europe GmbH, says: "It is great to see the high quality print KBA Cortina presses using Toray waterless plate technology are capable of is now being recognized on such an industry wide basis. Thanks to the process that eliminates the use of wash up chemicals, stand out award winning print and environmentally sound production create a powerful print production combination recognized by industry peers."
He adds: "The improved quality offered by this unique technology also enables publishers to review their design and develop more eye-catching pages with the addition of more images and graphics."
About Toray
Toray Industries Inc., the leading manufacturer of waterless printing plates world wide, was founded in 1926 and has a global presence with factories and sales offices in Asia, Europe and North America. The main businesses of Toray are synthetic fibers, carbon fibers, plastics, films and chemicals. Many of the products are developed from its proprietary polymer technology base and are commonly
used by the electronics , packaging, textile, automotive and aviation industries. Recent annual sales approached € 10 billion.
Toray International Europe GmbH, Neu-Isenburg, Germany is the trading arm of Toray Industries Inc serving an independent network of distributors in the European market.
For more information about Toray and Toray's waterless offset printing technology,
please visit www.toray.com and www.waterless-print.com.
To post a comment Log In or Become a Member, doing so is simple and free