A couple of weeks ago, I was in Boston at Standard Finishing Systems,and I saw a live demonstration of the fully-automated (and awe-inspiring) Smart Binding System. I wanted to share my tour with everyone, because although many of the components will be at PRINT 18 in Chicago, the complete line will not be assembled due to space limitations.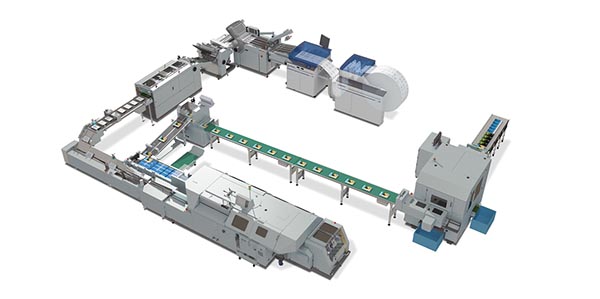 My tour guide was Bob Flinn, Director of Business Development at Standard Finishing Systems, and Bob effectively sums up this system's true value. "The Smart Binding System greatly reduces production-steps, touch points, and labor while also decreasing footprint and providing tracking from front to back."
The line includes the following components and functionality:
Hunkeler UW6 Unwinder and CS6-HS Rotary Cutter with Dynamic Cutting
The unwinder unwinds preprinted rolls for processing to folded signatures. The dynamic cutter cuts the printed signature to length for folding. The dynamic capability allows for variable cut lengths to minimize the number of blank sheets in a book. For example, by changing cut lengths you can vary between 12- and 8-page signatures. This reduces the maximum blank sheets at the end of a book from 11 to three.
Horizon AFV-566DF with Dynamic Fold Capability
The cut sheets are folded to signatures at the AFV-566DF with dynamic folding capability. Based on the cut sheet length, the signature folder automatically directs the sheet to the appropriate fold plates to minimize blank sheets at the end of the book.
Horizon BBS-40
The BBS-40 accumulates the signatures into book blocks based on an end of book mark in the last signature of a book. The signature book blocks are jogged into register, glue tacked, and pressed for forwarding to the binder. Barcode scanning of a unique identifier in each signature ensures complete orderly book block production. In the event of a missing signature, the book block is ejected and a reprint file can be generated.
Horizon EL-480 and BBF-480
The book blocks are transported via a lifting conveyor (EL-480) into the Horizon BBF-480 for caliper and/or scanning for data toset-up the Horizon BQ-480 Binder, and automatically each book block is advanced into the clamp for binding.
Horizon BQ-480
The Horizon BQ-480 will bind books varying in thickness from less than 1/8 inch up to 2.5 inches with either PUR or EVA adhesive.
Horizon HT-1000V Zero Make-Ready Three Knife Trimmer
The books are then transported to the Horizon HT-1000V Zero Make-Ready Three Knife Trimmer. The HT-1000V is barcode-driven and can produce variable finished sizes and thicknesses from book to book.
To learn more about the Smart Binding System, contact Standard.