Combining technologies from Steinemann, Schmid Rhyner and LEONHARD KURZ creates the world's most powerful solution for industrial digital varnishing and metallisation for FLYERALARM at Druckhaus Mainfranken in Marktheidenfeld, near Würzburg, Germany. One of the leading online printing companies in the B2B market in Europe, FLYERALARM is now doubling its capacities.

With a second high-output dmax 106 from Steinemann, complete with a dfoil digital UV metallisation module, FLYERALARM will effectively double its digital varnishing and metallisation capacity in mid-2019 at Druckhaus Mainfranken. The B1-format machine, with an hourly output of up to 10,000 sheets (depending on sheet format), is scheduled to go into operation at the end of the second quarter of 2019 at the German company's headquarters in Marktheidenfeld, Bavaria. The existing dmax 106 with dfoil already installed there will be working at full capacity virtually around the clock by the time seasonal business begins, if not sooner. In view of such a workload, the print house needed to expand capacities in digital varnishing and metallisation and have a back-up machine for all possible contingencies. Thanks to the extremely short makeready times and low operating costs of the innovative system, the print house can profitably enhance and rapidly ship even the smallest runs, particularly for its web-to-print business. The second dmax with dfoil for Druckhaus Mainfranken is just one in a series of orders which Steinemann will be shipping to customers all over the world in upcoming months.

"The name dmax stands for "digital maximum." At present, dmax machines equipped with dfoil are the only industrial production systems in the world capable of achieving premium-quality digital varnishing and metallisation in a single pass and at high-level productivity. "The digital varnishing and metallisation system from Steinemann combines perfectly with varnishes and adhesives from Schmid Rhyner and foils from LEONHARD KURZ. From our perspective, combining systems from these three manufacturers results in a market-leading solution for industrial, digital, high-end print enhancement. This sophisticated technology has been proving its high performance and reliability under the most demanding conditions at our print house for years now. In our production process, we finish off print jobs within just a couple of hours. In other words, we need equipment that supports the shortest possible order throughput times," says Ulrich Stetter, General Manager of Druckhaus Mainfranken, explaining the reasons behind the investment decision.

The print service provider entered the digital print enhancement segment back in 2014 as a pioneer and Steinemann development partner. Since then, it has been using the dmax to apply haptic varnish effects to a wide variety of print products. This dmax was expanded in 2017 to include the dfoil for digital metallisation, this also being a pilot installation. The print service provider has already processed well over 8 million sheets on its dmax. Stetter sees growth potential for digital varnishing and metallisation both with new print products and existing ones previously enhanced by other means. The service provider has now configured the process such that it can fully exploit the advantages of the dmax's large sheet format.

In Druckhaus Mainfranken's experience, the dmax achieves an unmatched level of print enhancement quality even at thin ink laydowns compared to solutions from other manufacturers. Such thin ink laydowns are made possible by the 600 dpi resolution of the machine's inkjet varnishing unit and the Schmid Rhyner diVar® products developed specifically for it. With these varnishes, both thick layers and fine lines and structures with spot or relief, matt or gloss varnish effects can be achieved without the use of printing forms. Druckhaus Mainfranken uses the dfoil to add metallisation effects to print products, also with embossed effects as required. Depending on the type of print product, metallisation and varnishing are completed in a single pass. "The dmax offers short makeready times, consumes little varnish, produces hardly any waste and requires minimal maintenance," says Stetter, confirming the machine's high cost-efficiency.

The quality of the consumables is another key factor in the company's industrial production process. They have to meet the high demands of 3-shift operation and harmonize perfectly with the machines. "The diVar® coatings and adhesives from Schmid Rhyner for digital varnishing and metallisation, and the actual foils for digital print enhancement from LEONHARD KURZ, have proven to be the ideal consumables for meeting the very high demands of our day-to-day operations. In this combination, they offer an unmatched level of quality in the market and are a core element of the dmax's high performance. Schmid Rhyner and LEONHARD KURZ, with their unique competencies, are likewise ideal partners for Druckhaus Mainfranken," explains Stetter.

"By putting a second dmax with dfoil into operation, we are starting the next chapter in the success story of this digital print enhancement method. What is more, having two dmax machines running in parallel once again makes us a pioneer in our industry sector. Recent investment decisions made by printers all over the world clearly indicate that this digital varnishing and metallisation process from Steinemann, Schmid Rhyner and KURZ, with its significant advantages for industrial production environments, is becoming the benchmark for premium print enhancement," concludes Stetter.

The dmax is available in two versions for different sheet formats: the dmax 106 for sheet formats up to 1,080 x 780 mm and the dmax 76 for small sheet formats up to 760 x 760 mm. Steinemann's machines have a reputation in the market for solidity and durability which is built on over 40 years of practical experience – and upheld by the dmax/dfoil system, with its years of operation under the most demanding production conditions.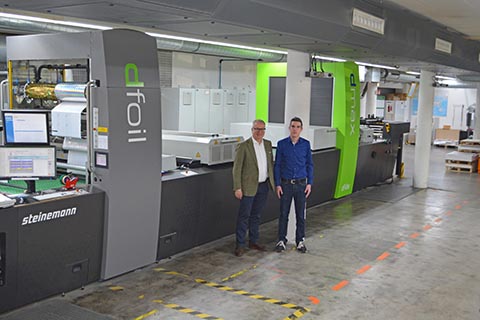 With a second dmax/dfoil system from Steinemann, Druckhaus Mainfranken will double its digital varnishing and metallisation capacity. The investment decision of the print house, based in Marktheidenfeld, Germany, is just one in a series of orders which Steinemann will be shipping to customers all over the world in upcoming months. Shown here: Ulrich Stetter (left), General Manager, and Sebastian Liebler, Head of the Print Enhancement Department and Print Enhancement Product Manager, in front of the dmax with dfoil at Druckhaus Mainfranken.