Kennesaw, Ga. – On October 1st and 2nd, over 60 customers from the United States, Canada, and Mexico joined Heidelberg at Warneke Paper Box in Denver, Colorado for the North American premiere of the Primefire 106. This revolutionary technology is the first commercially available industrial inkjet digital printing system in the 70 x 100 (40") format and recipient of the 2018 Intertech Technology Award.
With installation and commissioning recently completed, Warneke and Heidelberg marked the official North American "launch" of the Primefire, which is also the first serial machine worldwide, with a ribbon cutting ceremony on the evening of October 1st. The following day, Heidelberg customers participated in an interactive question and answer session with Steve Huppert, COO of Warneke Paper Box, and Stacy Warneke, CEO of Warneke Paper Box, who discussed their decision behind choosing the Primefire and the experience they've had with the machine thus far. The company plans on expanding their business with the Primefire by collaborating with their customers on targeted short run packaging campaigns and provide added security to cartons through variable content.
Later, customers received a complete demonstration of the machine from Dan Maurer, Vice President of Digital Print for Heidelberg USA, and also attended informational sessions that covered everything from Heidelberg's Saphira Consumables to the Prinect Digital Front End to folding carton applications. Customers were amazed by the Primefire's 1,200 x 1,200 dpi quality, wide color gamut, and color consistency of the press.
"To be honest, I went into this event thinking I was going to see the same inkjet technology that I've seen from other manufacturers before, but the Primefire really exceeded my expectations. Wow! I have never seen anything like it: the inline varnish, the handling of substrates with cartons up to 24 points – everything about the machine really impressed me. The full sheet format convinced me that the Primefire really is the best digital press developed so far," said Karim Angel, Owner and Managing Director of Dataprint in Mexico City.
Giving Packaging Printers the Confidence They Need
Based on the platform of the Heidelberg Speedmaster XL 106, the machine is designed for high production volumes and gives packaging printers the confidence of over 80% available print uptime, while also integrating seamlessly into offset environments. With critical quality matching to offset printing, the Primefire enables customers to decide whether they want to print digital or offset based on job length. Its direct-to-sheet 7-color imaging registration provides for unique security printing features to be incorporated, along with variable content for anti-counterfeiting packaging designs.
The Primefire 106 digital printing system offers the highest quality of 1,200 x 1,200 dpi with initial production speeds of 2,500 sheets per hour and is designed to achieve volumes of up to 1.5 million sheets per month. The platform is modular, which accommodates further speed increases and feature updates without having to replace the press. Additionally, custom press configurations using the XL 106 common offset modules are possible.
According to Trish Alberico of General Converting in Bolingbrook, Illinois, "I've been evaluating digital presses for many years, and up until now, no press has even come close to meeting all of the necessary key requirements to be considered a viable production solution in folding carton packaging. In order to justify adding a digital press, the press must fit within our current production stream and be capable of supporting the next challenge a customer may bring. After seeing the Primefire, it's very obvious that Heidelberg engineered this press to change the game."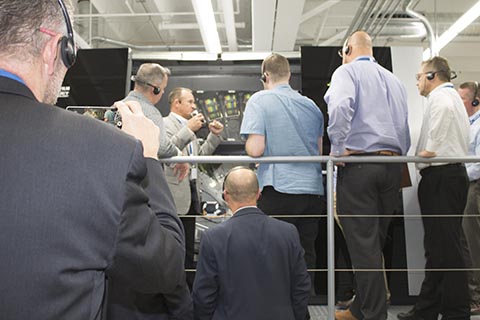 Dan Maurer, Vice President of Digital Print for Heidelberg USA, giving a demonstration of the Primefire 106.