The world's first user of the Promatrix 106 CS with MasterSet achieves more precise printed sheet alignment
Proven team: Varimatrix 105 CS and Promatrix 106 CS work with the same die-cutting tools
Promatrix receives a "Druck & Medien" journal readers' award
Successful cooperation with partner MK Masterwork
"We turn your packaging ideas into reality" – this is the slogan that Karl Rädisch GmbH & Co KG Offsetdruck from Emskirchen uses to advertise its services. The print shop, founded in Nuremberg in 1928, has progressed from paper and label printing to packaging printing. The more than 20 employees produce folding cartons, displays and blister cards for their discerning customers from the stationery, toy, automotive, textiles and cosmetics industries. As part of its process optimization activities, the company invested in a Promatrix 106 CS from Heidelberger Druckmaschinen AG (Heidelberg) last fall; it is the world's first machine in this class that features the optical MasterSet register system. It ensures more precise printed sheet alignment and therefore less waste. "A prerequisite for purchasing the model was that it had to be compatible with our Varimatrix 105 CS," explains Thomas Feuerlein, owner and Managing Director. "We can use the die-cutting tools on both machines, which makes us very flexible. We have increased our die-cutting capacity accordingly." "CS" stands for (die-)cutting and stripping. A Diana X 115 and a Diana 45 are used for folding carton gluing.
Trend towards process optimization
The Promatrix 106 CS die cutter is designed for short to medium production runs and boasts an extensive range of standard equipment, a high degree of user-friendliness and an attractive price-performance ratio. At some customers, it is used as the only production machine and then also completes long print runs reliably and continuously. "With our average run length of 5,000 to 6,000 sheets, the Promatrix is the ideal machine for our requirements," Thomas Feuerlein confirms. The average production speed is approximately 5,000 sheets per hour. The maximum operational performance of the Promatrix 106 is 8,000 sheets per hour with a 760 x 1,060 millimeter format, meaning that sufficient potential is still available. The die cutter impressed Karl Rädisch due to its short makeready times, the high productivity and its cost-effectiveness. The range of materials is very extensive – from 90 to 2,000 grams per square meter. Corrugated cardboard up to a thickness of two millimeters can also be processed. Karl Rädisch uses materials up to 700 g/m2.
The optical MasterSet register system dynamically adjusts the sheet position, ensuring perfect alignment of the print image and the die-cutting tool. Together with the accurate registration of the die-cutting and stripping stations, the Promatrix 106 CS delivers precisely die-cut blanks, thus reducing paper waste significantly. "MasterSet helps us a lot. We have had experience with completely new print jobs from the digital printing sector too, as in this case MasterSet automatically adjusts the central alignment of the print image," acknowledges Thomas Feuerlein. Furthermore, holes up to a diameter of 4 millimeters can also be punched precisely.
Promatrix range – flexible systems that the market really needs
The "Druck & Medien" journal drew up a 2017 shortlist of new products that the industry needs. From ten products, the Promatrix range came in third place in the readers' vote. The Promatrix was described by readers as "An innovative solution for the industry, a precise system for folding carton production with short makeready times and fast job changing, modularity allowing customization in line with individual requirements, and integration into continuous workflows."
Successful cooperation with partner MK Masterwork
The partnership between Heidelberg and MK Masterwork, which involves them working together to develop and distribute postpress machines for packaging customers, has now been up and running for a good three years. The long-term success of the partnership is founded on the perfect fit between the two companies' core strengths. MK Masterwork is the largest manufacturer of die cutters, embossing machines and hot foil machines in the Asian region. As a key player in the Chinese market and the leading supplier to the demanding tobacco industry, MK Masterwork has invested heavily in the manufacturing and R&D capacity needed to meet the demands of customers in the packaging market as well as, with respect to the development of new products, of Heidelberg's high standards for operator safety, user friendly operation and production reliability. Heidelberg's global sales and service infrastructure is the largest in the industry and therefore provides a perfect distribution channel for MK Masterwork. Heidelberg also has decades of experience in the development of print and postpress machines. "The fact that the Promatrix is produced in China is of no importance to us. We would always be happy to recommend it to our colleagues too," confirms Thomas Feuerlein. The Promatrix is delivered with the GS mark that verifies that the die cutter has been subject to thorough testing, and therefore complies with the stringent safety standards of the German employer's liability insurance association for the print and paper processing industry.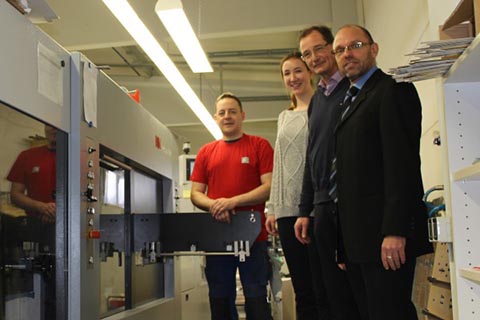 Karl Rädisch's Marcus Schiffermüller, machine operator; Anika Feuerlein and her father Thomas Feuerlein, Managing Director, as well as Markus Dietzel, Operations and Technical Manager (from left to right) see the Promatrix 106 CS as a good investment.