Milwaukee, Wis. – BALDWIN Technology Company Inc. has reached an agreement with Quad/Graphics Inc. to acquire the intellectual property rights for the Digital Ink System, enabling continued development of the technology. BALDWIN is a world leader in providing process automation solutions, consumables and services for the print, packaging, textile and corrugated industries.
The Digital Ink System is a computer-controlled ink injection technology that replaces traditional open fountain ink trains—or can upgrade existing "pump and rail" systems—providing more precise density control at all press speeds with significant cost savings. The system eliminates ink contamination and delivers consistently high-quality results, metering the correct volume of ink delivered to each control zone across the printed image.
In late 2017, BALDWIN acquired Quad/Graphics' research and development division, QuadTech, combining it with PC Industries and Web Printing Controls to form a new "BALDWIN Vision Systems" business segment.
BALDWIN Vision Systems already owns the rights to the Digital Ink System technology used in newspaper and commercial printing markets. This most recent agreement brings to BALDWIN additional ownership of new developments underway for future applications of the technology.
"We are very enthusiastic about the new possibilities this agreement affords us, and more importantly—our customers," said Brent Becker, President and CEO of BALDWIN. "We see enormous potential for the Digital Ink System technology beyond the efficiencies already being realized by commercial and newspaper printers. With our new Vision Systems business segment in place, we plan to hit the ground running to deliver inventive new solutions and adaptations of proven technologies to new industries."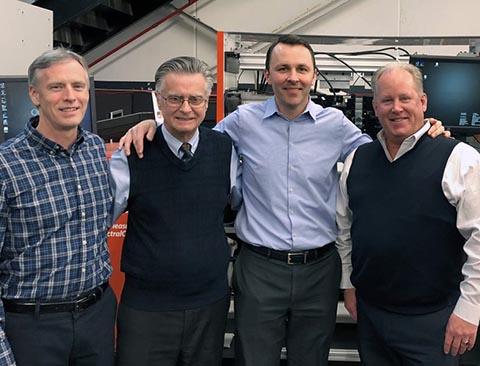 BALDWIN Vision Systems leadership, L-R: John Woolley, Herman Gnuechtel, Brent Becker (BALDWIN Technology Company), and Karl Fritchen.