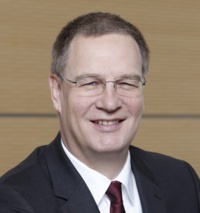 Oliver Jung (55) has joined the Supervisory Board of Heidelberger Druckmaschinen AG (Heidelberg). He was appointed by the Mannheim registry court on 23 May 2017 until this year's general meeting of Heidelberger Druckmaschinen AG on 27 July 2017. At that general meeting, the management will propose Mr. Jung to the shareholders for election to the Supervisory Board in a separate agenda item.
Oliver Jung, who has a Masters in Mechanical Engineering, has been a member of the management team and Board of Schaeffler AG, Herzogenaurach since 2010, and in this capacity since 2013 Chief Operating Officer for the Production, Purchasing, and Logistics divisions. He already has many years of experience as a supervisory board member and has also been a member of the "Dieselkuratorium", the board of trustees of the Deutsches Institut für Erfindungswesen e.V., since 2015. Oliver Jung has over 28 years of professional experience in management roles in technology and family-run companies. He has an in-depth understanding of the automotive and mechanical engineering industries as well as other industrial sectors.
"Oliver Jung will enhance our work in the Heidelberg Supervisory Board. His extensive industry know-how, in particular with regard to optimizing production environments, will bring new momentum to Heidelberg," said Dr. Siegfried Jaschinski, member of the Supervisory Board of Heidelberg.