Close Customer Collaboration Helps Landa Offer a Breakthrough in User Experience
Israel, Rehovot – Landa announces major developments to its Landa S10FC and S10C Nanographic Printing™ Presses, enhancing print quality and upgrading the press design. The new changes firmly place Nanographic Printing™ presses as a production-oriented digital printing solution for mainstream applications.
Landa Founder, Chairman and CEO Benny Landa says, "We have been working closely with our customers to ensure that our Nanographic Printing presses will provide the performance, print quality and feature set for high-speed production. In addition, the new Landa Operator Cockpit will set a new standard for operating any production press, whether digital or offset."
New Landa Operator Cockpit redefines operator user experience

Detailed research and close customer collaboration have led to a new concept in press operability and the addition of several important features. The Landa Operator Cockpit, an integrated production management center located at the delivery end of the press, enables operators to monitor and control the press while effortlessly glancing at the delivery area. Operator-centric with an advanced ergonomic design, the Landa Operator Cockpit surrounds the operator with touch-screen press controls, job management tools, video feeds from all key press functions, production-related vital signs and a lighted inspection table. In addition, a personal area enables operators to store and display personal items.
New ink ejectors enhance print quality
New ink ejectors improve print quality and increase press productivity. With a resolution of 1200 dpi, they boast higher print quality levels that match offset resolution and gray levels. In addition, the new ink ejector architecture significantly improves the reliability of the ink ejection and enables redundancy in case of nozzle failure.
Additional developments and features:
Advanced paper handling system

An automatic paper handling system supports both paper and plastic substrates. Reducing many of the labor-intensive tasks related to paper setup, it also accelerates the changeover to new substrates and maximizes uptime. Continuous paper feeding and delivery capabilities let converters and printers operate without stopping to replace the paper pile. An auxiliary delivery tray will enable operators to automatically collect proofs without interrupting the normal production process.
Optional inline coating unit
An optional conventional inline coating unit will efficiently enhance Nanography-printed products with both flood and selective coating. The coating unit will support flexo rollers and plates as well as a variety of UV and aqueous coatings.
Committed to making a difference
Landa plans to start shipping beta units of the Landa S10FC Nanographic Printing™ Press for folding carton applications at Q4/2014.
Shipments of the Landa S10C Nanographic Printing™ Press for commercial and publishing printing will follow shortly thereafter.
Benny Landa comments, "We have made substantial improvements that will accelerate the transformation of digital printing into a mainstream technology."
---
Commentary by Cary Sherburne
I was pleased to be included among a select group of journalists and analysts that met with Benny Landa during Print13. He unveiled the latest plans for the S10C (commercial print) and S10FC (folding carton) nanographic presses and shared a number of print samples that demonstrate the progress that has been made since we last saw images at Graph Expo 2012. Progress was partially enabled by the use of new ink ejectors that are operator replaceable and offer both better print quality and improved reliability. This brings the resolution of the press to 1200 dpi.
The concensus of the group (which included David Zwang, Richard Romano, and Frank Romano), and reportedly, the customers who have seen the samples, is that the quality is definitely sellable as is. We saw images printed on everything from heavy board to newsprint, paper towels and even toilet paper (no show through!). It can also now print on transparent materials. Of course, as Mr. Landa said, they only showed us the best of the best, and he is not quite happy with where they are. So they will continue to work on quality enhancements, with beta products planned to be in the field late next year (Q4/2014 beta for the S10FC and H1/2015 for the S10C).
What I found most amazing, however, is the redesign of the press. Everyone was wowed at drupa with the giant smartphone control panel for the press, and the good news is, that is still incorporated into the press. But the design is startlingly different. As the press release indicates, this redesign was driven by customer feedback.
Landa's team visited more than 120 customers in more than 10 countries to garner feedback on the press architecture and functionality as well as features and options. I remember Mr. Landa saying that he was not going to make the same mistakes again (referring to earlier experiences including Indigo) and would likely make new ones this time around. When asked what the biggest "new mistake" was, he admitted that it was keeping the design of the press under tight wraps until drupa rather than seeking user input earlier.
That being said, the team has responded admirably to the feedback, a significant element being the location of the "smartphone" control panel. Initially it was at the front of the press, but overwhelmingly, operators indicated that they needed to be able to control the press from the area of the delivery pile to minimize the amount of running back and forth required. As you can see in the images, the new operator cockpit is even more stunning than before, and appears to be a much more optimum work environment for the operator.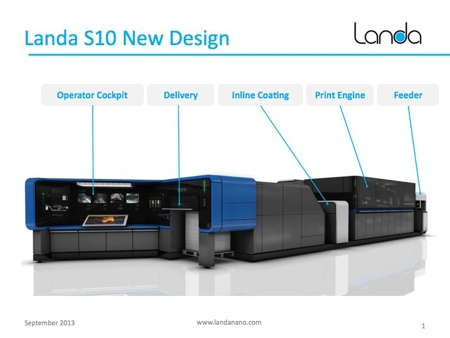 Highlights include the ability to fully control and operate the press from one unique cockpit area, including side delivery access to make it easy to pull sheets for review without stopping the press as well as a built-in fully functional light table. The personal space added to the cockpit, including cup holders, drawers and an area of the control panel where operators can post personal items such as family pictures, is a nice touch. I guess they just need to add a fold-out bed and fridge, and the operator will never need to leave!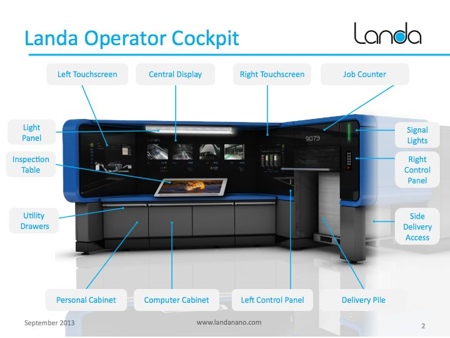 These truly unique presses will meet a market need for output that is higher quality than today's water-based inkjet and more economical at longer run lengths than toner-based printing. If they are successful in the market, they will likely both create new application opportunities and bleed off volume from conventional printing processes in both commercial print and packaging. The B1 sheet size (approximately 40x28") means the press can slide right into production processes for 40" shops, using much of the same prepress and finishing capabilities but with the added ability to do shorter run lengths (as compared to offset) and variable data printing.
While Landa is not making any statements at this time about what digital front end will be in use, he is clearly cognizant that it must be powerful enough to handle the type of data that will be required to run this press at speed, regardless of the file type.
The next point of news we are likely to have from the Landa folks will be announcement of beta sites, and we will be very interested to see who those will be and how much they will be able to talk about their experiences prior to launch.
I recently had the opportunity to sit down with Benny Landa, to discuss these exciting changes to the Landa nanographic printing platform: