Arjowiggins Creative Papers collaborates with Gary Card, Lady Gaga's costume/set designer, on extravagant creatures fashioned from Curious Collection
Combined Locks, Wis. -- Arjowiggins Creative Papers launches Curious Matter, an avant-garde paper made with potato starch. This revolutionary, patented paper provides a startling texture with a richly matte surface and deep, ultra-pigmented colors. A complementary part of the multi-sensory Curious Collection of fine papers, Appleton Coated is the exclusive North American distributor.
To express the new papers' creative potential, Arjowiggins Creative Papers has embarked on an adventurous artistic collaboration with designer Gary Card, a rising star of the London scene and fêted costume and set designer for Lady Gaga. He has used his wildly eccentric ideas to create extravagant creatures fashioned from Curious Matter and Curious Collection papers.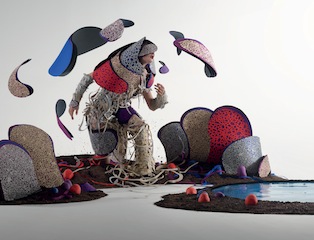 Card's Curious Matter creature interacts with a second creation made from paper and light, a combination of the Curious Collection's SKIN, Cosmic, Metallics, Translucents and Touch ranges. The resulting tableau, "Metamorphosis," serves as an artistic metaphor and an inspiration platform for the Curious Collection as a whole, reflecting its mix and match possibilities and its increasingly comprehensive range of textures, colors and effects.
Curious Matter is the result of a continuous quest by Arjowiggins Creative Papers' laboratories to develop unconventional papers with unique creative qualities. "Astonishing as alchemy, the mundane has been transformed into the beautiful," says Ferkó X. Goldinger, marketing manager at Appleton Coated. "The cutting-edge Curious Collection constantly innovates to offer designers and creatives unexpected and original papers. This launch once again pushing the boundaries of material science and creative endeavor."
He explains, "This up-cycled paper disguises its modest origins as industrial waste behind its sophisticated look and feel. In the same way that molecular gastronomy breaks down foods to reconstruct them in innovative forms, the R&D team found a recipe that used the spherical particles of raw potato starch, which is a by-product from the food industry, to form an arrestingly textured surface that delivers a tactile experience like no other."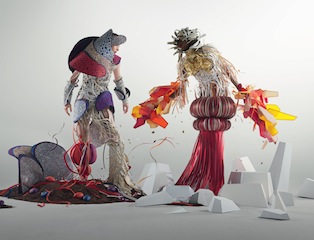 The qualities of Curious Matter are difficult to describe, but Goldinger is compelled to attempt: "To the touch, it exudes the impossible fusion of sand and silk. The colors are so uniform, so intensely matte, that your eyes seem to sink into its depths. This is a paper that demands attention when you see it and is memorable the moment you pick it up."
Each paper has been carefully honed, aesthetically and physically, to have resonance in lifestyle-oriented markets: from food and drink and beauty and cosmetics, to luxury goods and engaging environments. Its robust nature makes it an ideal partner for all applications where an eye-catching, contemporary look and irresistible feel will make a difference: invitations, brochures, event collateral, luxury packaging and labeling for products and accessories, to name a few. It is also perfect for boxing and folding cartons where first impressions count.
Curious Matter has been rigorously tested to delivers spectacular print results. Goldinger elaborates, "Its unique tactile assets cannot be reproduced by print techniques and provide the perfect base for four-color offset printing, digital printing, lithography and letterpress. Stunning textural contrasts can be produced by the creative application of silk-screening, embossing, debossing, die-stamping and foil-stamping, as well as for folding, scoring, laser-cutting and lamination processes."
To create Curious Matter's seductive, contemporary palette, Arjowiggins Creative Papers has once again worked with Edelkoort Studio. Continuing the narrative of its potato starch source, the colors are named after rare potato varieties that have extraordinary properties and strikingly colorful flesh that evoke the seven hues of Curious Matter:
* Désirée Red – The name of this potato from the Netherlands and France expresses the fiery, passionate, and indulgent nature of the color. The blazing and powerful Curious Matter version stands out as a newly intense color perfect for announcing an event and printed communications for anything from accessories to pastries and lingerie.
* Adiron Blue – The Adiron Blue potato is a hybrid created recently by a well-known American university and has an arresting deep and vibrant cobalt blue. Curious Matter's version has a sensational graphic tone with magnetic qualities that make it eye-catching for events, invitations and packaging.
* Purple Majesty – This penetrating and mysterious shade carries the name of one of the world's healthiest potatoes that is rich in antioxidants, giving it its voluptuous and seductive coloring. It is also a chef's favorite for its divine taste. This color is perfectly suited to the luxury goods, cosmetics and fashion industries.
* Black Truffle – Named after an ancient potato from Latin America and Italy, this vibrant extra black has irresistible "must have" elegance.
* Andina Grey – This uncommonly gnarled potato is probably the source of all modern varieties. This is a timeless ash-grey, with a porous, pebble-like feel. It is an essential tone that exudes wisdom and adds subtlety to the collection. A perennial color, embodying comfort, wellbeing and stability, it is as ideal for beauty and lifestyle products as it is for spirits.
* Ibizenca Sand – Found in the Ibiza and Formentera Islands, this is a gourmand's delight, with a beige mineral-based shade, whose color and texture is reminiscent of the coast and its sandy dunes. This shade, as Andina Grey, is a natural color that reflects the recent trend for nude and kraft colors and will delight the food, drink and cosmetics industries.
* Goya White – A potato with pure white flesh and renowned for its resilience, has inspired this extremely white shade that is versatile and timeless, perfect for four-color printing and packaging.
For more information on the Curious Collection, please visit CuriousCollection.com and click on "Where to Buy?"