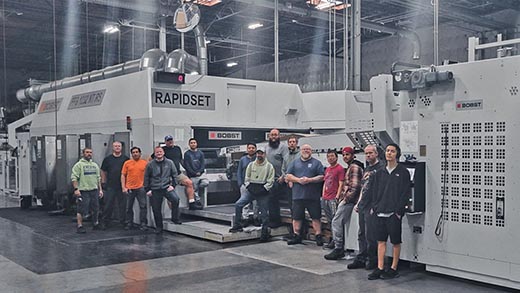 Mex, Switzerland—Leading US corrugated box manufacturer, Alliance Packaging is using a range of BOBST converting equipment for both conventionally and digitally printed corrugated board, helping the company to provide high-quality packaging with short lead times to small- and medium-sized customers.

The biggest independent packaging company in the Pacific Northwest, Alliance Packaging dates back to 1967 when Gordon Younger decided to set up his own company. Initially known as Seattle Packaging, the business merged with Sound Container in 2001 and Alliance Packaging was formed. Headquartered in Renton, WA, it covers more than a million square feet of manufacturing and warehousing space with converting plants in Seattle, Spokane, Portland (OR), and Bozeman (MT), and warehouses in Medford and Nampa. The company remains in the hands of the Younger family and employs around 500 staff across its sites.

Delivering high-quality corrugated packaging and point of sale solutions to customers in North America, the company relies on a full complement of finishing equipment from BOBST. An interesting point about Alliance is that just in the last five years, the group has installed, or is scheduled to install, a product from each of the Swiss manufacturer's corrugated product lines, from flexo folder-gluers to litho-laminators and die-cutters.

"We have a long history with BOBST which, in my mind, makes the finest platen die-cutters in the world, and our plants at Spokane and Seattle have both run this type of machine for many years," said Krist Leland, Director of Manufacturing, reminiscing about the established partnership between the two companies. "After the merger with Sound Container, I would say that this partnership was rekindled as we began to ramp up investment in new equipment at that point."

Adding value with custom packaging

These days Alliance Packaging is particularly strong in providing design support and custom packaging for small and medium-sized customers in the Northwestern United States and Canada. "We cater to the custom value-added packaging market for customers who want to use their box as a unique marketing tool," said Leland. "It's all about the unboxing experience – that continues to be a big trend – and because we can offer short lead times, high quality, and close personal contact, our service is particularly well-suited to that market."

The company also provides traditional brown boxes printed with just one or two colors, but as Leland pointed out, "We're not about massive volume, that's not our primary market. We work a lot with small entrepreneurs who are buying in quantities of 500, 1,000 or 1,500 boxes for their products, which we can do with our digital printing capabilities. This is what sets us apart from an integrated corrugated board mill. They don't have that agility and won't touch the smaller volume jobs."

Continuing investment with BOBST

As mentioned, the past five years have seen a raft of new investments. In 2018, the Spokane site wanted to replace a previous-generation BOBST die-cutter, so the team began to investigate the market, but soon decided to stay with BOBST and bought a VISIONCUT 1.6 PR Autoplaten® die-cutter. The same year, the Hillsboro plant took delivery of an FFG 1232 NT flexo folder-gluer with RAPIDSET. Leland explained, "We looked at other equipment, but there really wasn't any other decisions we could make than to buy from BOBST. We were very happy with all the testimonials we heard having traveled the country to see these machines in operation. There just wasn't anyone that didn't have high praise for them."

The next new BOBST machine was installed in 2021 when Hillsboro started up a DRO 1636 NT RS rotary die-cutter with MULTILOADER, while in Seattle, an EXPERTFOLD 165 A2 folder-gluer replaced two older specialty machines from a competitor in 2022. Leland went into more detail about why Alliance chose BOBST. He said, "What is absolutely brilliant about BOBST machines is that they are almost interchangeable. The drives are the same, the rolls are the same, other than print cylinder size, so we could put in a new rotary die-cutter and not have to spend millions on spare parts because we already had identical duplicate parts on the machine that was running right next to it. In addition, no other supplier was offering these machines in 130 inch widths, which gave us higher efficiencies."

Versatility and productivity gains

The versatility of the BOBST machines have been a major factor for Alliance in optimizing productivity and maximizing product variation. Leland explained, "When we chose the EXPERTFOLD 165, we did so because it can run a box as small as a folding carton machine, yet as large as a regular corrugated one, which meant we could replace two machines with one from BOBST and we were ecstatic about that."

He also highlighted other game-changing features such as the multifold option on the flexo folder-gluer which allows two or three boxes on one sheet, and auto registration, which "has changed our world pretty significantly, because all of a sudden, high speed and tight registration aren't fighting each other. We can run at high speeds with perfect registration." Huge gains have also been made in setup times, which have gone down from up to 30 minutes to around 12 minutes.

In addition, Alliance worked closely with BOBST to ensure that the equipment would be able to convert digitally printed board without causing issues with scuffing in the feed section. Leland commented, "The knowledge of the service people and on the engineering side has been exemplary. There were many times where we'd ask, especially on the folder-gluers, if something could be done, and they would get back to us almost immediately, saying, 'Yes absolutely, that is not a problem'. This is another reason why we keep returning to BOBST."

Looking ahead, 2023 will see the installation of a MASTERSTAR sheet-to-sheet laminator, a single-face sheet delivery system, and VISIONCUT 1.6 PR Autoplaten® die-cutter, as Alliance Packaging Group continues to invest with BOBST to maximize opportunities in the short-run, value-added market.