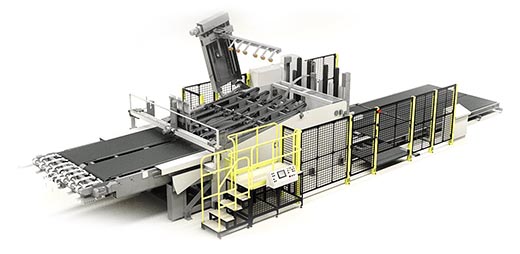 Company reaches important milestone: 200 EVOLs sold across North America

Hunt Valley, MD -- The Corrugating Machinery Division of Mitsubishi Heavy Industries America, a leading supplier of corrugating and box-making machinery, is pleased to announce its new and much-anticipated Mitsubishi Prefeeder for EVOL at Corrugated Week 2022 (Booth #201, San Antonio, Texas, September 19-21).

The announcement coincides with an important milestone as Mitsubishi Heavy Industries America (MHIA) recently sold its 200th EVOL in North America.

"In close collaboration with our customers, we are constantly investing and innovating to best serve their needs for productivity, accuracy, and profitability," said Shoji Isoai, President, MHIA Corrugating Machinery Division. "The Mitsubishi Prefeeder is the latest technological breakthrough that comes with the 'vote-of-confidence' represented by the landmark 200th EVOL sold in North America."

The new Mitsubishi Prefeeder ensures faster throughput and the front-of-line reliability required to keep the MHIA's premium line of EVOL box-making equipment functioning with maximum efficiency. In productive use across multiple facilities in the EU, the Mitsubishi Prefeeder is now available for customers in North America.

The Mitsubishi Prefeeder is currently available for the EVOL 84 and EVOL 100 – either 350bpm or 400 bpm – or for any equipment that is a top printer. It can run a continuous shingle of either singlewall or doublewall sheets with a minimum sheet of 8.7 x 27.2 and a maximum sheet of 37 x 100 and features a lifting device that reverses the sheet stack.

"Our research indicates that 50% of equipment downtime is caused by auxiliary equipment, with the prefeeder accounting for 38% of that number," said Isoai. "The new Mitsubishi Prefeeder will dramatically reduce downtime and maximize the productive potential of EVOL."

EVOL Customers are giving the company high marks across the board.

"It's quite simple – from the MHIA Sales Team, to the VP and all the way through to the tech guys – I have never in my life on the converting side had such a good experience throughout," said Richard Goldberg, VP of Operations, President Container.

According to Brian Healy, General Manager, Carolina Container, the "EVOL is a great selling tool for us. Everyone wants to see it and it's so impressive and it produces such a precise and clean box; it's the highlight of the tour."

"Listen, we could have bought any machine we wanted but there wasn't any real conversation about it – it was EVOL all the way," said Adam Tominsky, General Manager, Rand-Whitney

In addition to the Mitsubishi Prefeeder, the company will also be highlighting the following:

Introduced in 2021, the MC-100 is a state-of-the-art Flexo Folder Gluer that features ease of operation and enhanced quality-control for plant personnel. Introduced in Japan in 2020, the MC-100 produces less downtime through easy technician access via elevated platforms. Its innovative stop and start wheel feeder provides non-continuous feeding, ensuring optimized alignment and quality control. Top production rate is 300 BPM.

Work Instructions represent the latest evolution of the company's EVOL AR Remote Assistance Augmented Reality Program. With some customers reporting an impressive 50% reduction in downtime, EVOL AR allows North America-based plant managers, technicians, and engineers to quickly and efficiently share and resolve issues in real-time from their facilities.

The company's sales, service, and technical team members will be on-site at booth #201 to field customer questions, discuss current collaboration opportunities, and share their latest insights.
"Our customers have high demands and we strive to meet and exceed them with investments in technology, customer service, rapid delivery of replacement parts, and in-person and on-line technical support," said Hiroyuki Kikumoto, Senior Vice President, Sales, MHIA Corrugating Machinery Division.

More information: www.mhicorrugating.com