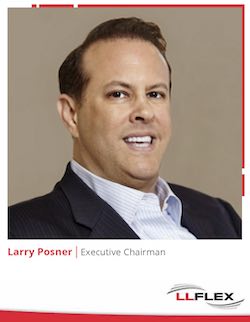 Aligning with the company's continued growth and vision. Senior executive joins with over thirty years of experience, having previously served as CEO, CFO, Head of Sales, Board Member and Chairman of the Board of numerous companies.
Louisville, KY – LLFlex, a Louisville, KY-based global packaging company and portfolio company of Centre Lane Partners, a NY-based private investment firm, has appointed Larry Posner as Executive Chairman and member of the LLFlex Board of Directors.
LLFlex is a global leader in packaging materials and industrial laminate solutions for the consumer packaging, building & construction, and wire & cable industries.
Mr. Posner joins after four years as a member of Centre Lane Partners' inhouse Portfolio Operations Team.
Mr. Posner has been an integral member of the LLFlex executive management team over the previous six months, having previously served as the Company's interim CFO.
"We look forward to working with Larry in his new role at LLFlex and believe that he can help the Company take advantage of the exciting opportunities that lie ahead and grow the Company over the next few years," said Quinn Morgan, Co-Founder and Managing Director at Centre Lane Partners.
"Providing extensive experience and a dedicated focus to the business, Larry's input from the outset has contributed to the wider company vision and future growth strategy. He will continue to work with our executive team to ensure deployment of a multitude of strategic business initiatives. I am delighted to welcome Larry Posner to the team," said Victor Dixon, CEO at LLFlex.
Prior to Centre Lane Partners, Mr. Posner was a Managing Director at Alvarez & Marsal, focusing on Interim CEO roles and performance improvement initiatives with private equity owned companies.
Mr. Posner joins LLFlex during an extensive expansion period, including rapid scale-up at its new 73,500-square-foot fully integrated manufacturing facility in High Point, North Carolina. The plant houses high-speed, premium-efficiency equipment for custom laminating, coating, embossing, and slitting to address growing product demand. The facility utilizes state-of-the-art automated slitting and packaging robotics to provide short lead times and customized solutions.
For more information, call (800) 634-3645 or visit www.llflex.com.