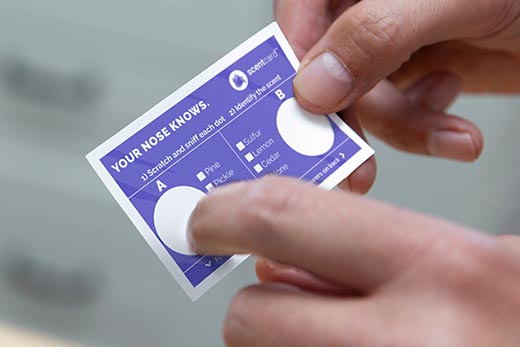 Scratch and sniff test to screen for loss of sense of smell
North Mankato, Minn. – Five Rivers Mental Health Clinic reported that its adoption of an innovative method for detecting loss of smell, called scentcard™, is helping staff members to return to providing in-home services throughout a multi-county area in south central Minnesota. A growing body of scientific evidence – including a Mayo Clinic study – has found loss of smell to be a more reliable indicator of the COVID-19 virus than temperature checks.
Five Rivers has 27 staff members who provide psychotherapy, psychological assessments, behavioral therapy and skills work to 300 children and adults in their homes and at the clinic. The clinic has spent much of the past year seeing just 25 percent of its normal capacity of face-to-face clients due to COVID-19. That means having just one staff member in a home during a week. Under the state of Minnesota's Early Intensive Developmental Behavioral Intervention program, Five Rivers provides 10 – 20 hours a week of treatment per child. Reducing the number of staff who interact with families drastically impacted the clinic's ability to function.
"Mental health services are needed more than ever before due to the stress that COVID has put on families," said Sarah Sifers, president of Five Rivers. "Using scentcard has helped us identify staff who have experienced a loss of smell, which could be a symptom of COVID-19. This has led us to double the number of homes our staff can enter in a week. It's getting our staff back to working full-time, too, which means they don't need to apply for COVID unemployment dollars."
The clinic is now using scentcard™, a simple, non-invasive screening tool introduced by Taylor Corporation last year for early detection of loss of smell. scentcard uses a patent-pending process of printing scented inks on small "scratch and sniff" cards to identify whether someone has experienced a loss of smell. Taylor manufactures a scentcard PRO version that incorporates QR codes and a web app for smartphones that supports instant alerts and automatic reporting of employee smell test results to businesses seeking to protect their staff, clients and visitor during the pandemic.
Staff members take a scentcard PRO test each morning before they plan to have face-to-face contact with clients or coworkers. Five Rivers also provides cards to all the people in client homes who are over 4 years of age. Prior to implementing scentcard, Five Rivers relied on staff and families to self-report any COVID symptoms.
Sifers investigated other scent assessments and testing options, including at-home COVID tests and saliva testing, before choosing scentcard. "I'm a scientist at heart and by training, so I did a lot of research to validate the role of loss of scent," she said. Five Rivers uses the standard version of scentcard to screen people for loss of scent when they arrive at its clinic for appointments. "The ease of use and affordability of scentcard were attractive to our busy staff," she added.
Five Rivers is committed to providing a level of protection and care for the people it serves, who include marginalized and underserved populations, as well as victims of domestic abuse. "These populations are already adversely impacted by COVID and not at the top of the list for vaccination," Sifers said. "It's really important to them that we are extra careful. With scentcard assisting in detecting loss of scent, we feel more confident in our safety precautions and are hopeful we can start reversing the declines we've seen in children's functioning due to COVID isolation."
"Taylor is proud to have introduced the first fully-operational scent screening solution available at scale," said John Harden, director of product marketing at Taylor. "We have implemented the solution in manufacturing, construction, warehousing and distribution, and long term care facilities in multiple locations across the U.S. and scaled our production and technology capacity to produce millions of scent screening cards per week."