Museum operated by Toppan is set to reopen on October 6 after renovation and will launch Printing Culture Studies based on the outputs of research over the last 20 years.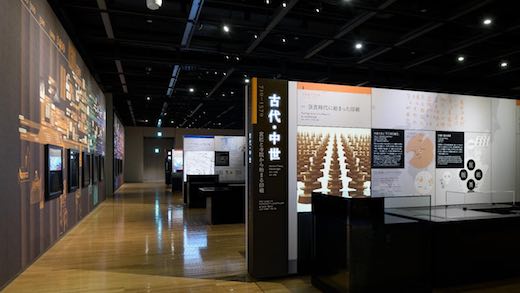 An exhibit focusing on the period from ancient times through the Middle Ages in the Printing Museum's refurbished permanent exhibition—History of Printing in Japan.
©Toppan Printing Co., Ltd.
Tokyo – The Printing Museum, Tokyo (Printing Museum), operated by Toppan Printing (Toppan), will celebrate 20 years since its opening on October 7. The Museum is marking the occasion by reopening on October 6 after renovation centered on its permanent exhibition. It will also be launching Printing Culture Studies as a new academic field, based on the results of its research over the past 20 years. To coincide with this, a book titled History of Japanese Printing Culture, will be published through Kodansha Ltd.
The concept for the Printing Museum was originally conceived in the 1990s, at a time when digital technologies began to permeate various areas of society, including the printing industry. Toppan sensed a need to preserve and pass on to future generations analog techniques and modes of expression related to printing culture that were at risk of being consumed by a wave of digitalization. The Printing Museum opened its doors in 2000 and has since worked to showcase printing as a medium of communication, collect historical printing materials, and preserve equipment and products that could otherwise be lost. Visitors to the Museum since its opening total more than 630,000.
Renovation of the museum has focused on the permanent exhibition, which is themed on the "History of Printing in Japan." The exhibition presents a broad perspective of developments around the world while taking a fresh look at the printing culture that has developed in Japan. It features a global history of printing in the form of a chronology as well as an exhibit dedicated specifically to technology. Beginning with the start of Japanese printing in the Nara era, visitors will be able to see how printing has developed from ancient times through the Middle Ages and early and late modern periods to the present day, learning about how it has grown from use by Buddhist temples to expand in wider society, becoming industrialized and then an essential presence in consumer society.