Avery Dennison MPI 1405 Proves Perfect for the Tough Textured Wall Surfaces on This Project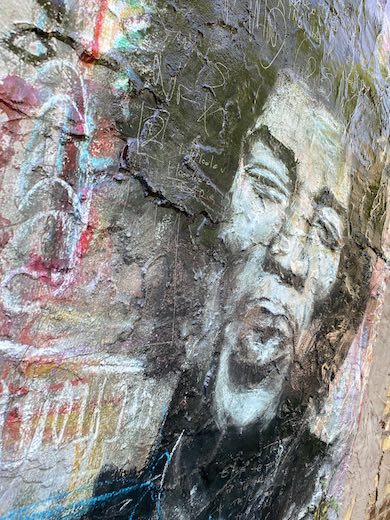 Mentor, Ohio – Residents of Oshkosh, Wisconsin, woke up last Saturday morning to an amazing sight: The city's first outdoor art gallery had popped up literally overnight. Large colorful murals displaying original works from 20 local artists transformed exterior walls in 20 locations around downtown Oshkosh into textured canvases of brick and cinder block.

The works of art on exhibit in the Oshkosh Mini Mural Project were digitally printed onto weather-resistant Avery Dennison? MPI 1405 PVC-free, digitally printable film by Oshkosh-based Art City Wraps, an Avery Dennison Certified Wrap Installer. With permission of the property owners, the sheets were applied by a volunteer team of local graphics professionals led by Joshua Marquardt, vice president and partner in Art City Wraps and an internationally recognized competitive wrap installer.
Mimicking a gallery experience, the Mini Mural works of art are hung at eye level and spread around downtown. Visitors can use a specially created Google map to find all 20 locations. Click on one and a photo of the installed mural comes up along the name of the artist and a link to their Instagram or Etsy account. There is also a plaque at each site. The new public art installation complements the thriving art gallery scene in downtown Oshkosh.
The Mini Mural Project was Marquardt's brainchild. Back in 2018, he proposed the idea to the just-formed Oshkosh Public Arts and Beautification Community.
"The community was established to sponsor arts events and other cultural initiatives in the city," Marquardt said. "The first thing we needed to do was raise some money. I had a lot of experience doing commercial wall graphics, and I was aware of how successful outdoor art murals were in some other cities, so I suggested we find 20 locations where we could install original works from local artists and create some buzz about Oshkosh being a mural city."
The idea became a plan. The Oshkosh Convention & Visitors Bureau and the Oshkosh Area Community Foundation got behind it, as did the City of Oshkosh, which waived any mural fees. Art City and others would donate their time, and other companies would sponsor the locations. The committee would host a reception for the artists that people would pay to attend. The artists would benefit from all the exposure, and the Public Arts and Beautification Community would get some seed money.
Then the COVID-19 pandemic happened. No reception. No public gatherings. Different charitable giving priorities. But the artists had already created their works, and the installation locations were all lined up, so the show would go on, with physical distancing practices. Instead of creating a fund for the arts, any income would go directly to the artists, most of whom were financially impacted by the pandemic.
Marquardt and his team of volunteers started installing late on Friday afternoon and worked through the night until around 2:00 a.m. Saturday morning. The gallery officially opened at 8:00 a.m.
"The installation was an event in itself. I had a torch in one hand to illuminate the job while I worked, and drones following us around overhead. A violinist and other musicians were playing in different spots where we were installing the murals. It was a lot of work, but it was fun."
"As for the Avery Dennison 1405 PVC-free film, it made the application process easy. We never could have done something like this as recently as three years ago. It would be impossible with paint, and the film technology wasn't there yet either," Marquardt said.
"MPI 1405 film has great color pop and really conforms to rough, textured surfaces like brick, concrete and cinder block. I just think it's so cool to see the print and then to bury the material into the surface of the wall. If you didn't know, you would think it was painted on the walls. We're grateful to Avery Dennison for donating the rolls of film for this project," he added.
"The film is really durable, which is important, because this is a semi-permanent installation that we hope will attract and inspire visitors. And when the murals eventually need to come down, the film is designed for clean removal, so there will be no residue or damage to the buildings, many of which are historic," he said.
"The Visitor's Bureau promotes Oshkosh Wisconsin's Event City. Starting this week, we hope people will also start to think of Oshkosh as Wisconsin's Mural City. There is definitely nothing like it anywhere in Wisconsin or our neighboring states."
Find more information about Avery Dennison Graphics Solutions films at graphics.averydennison.com, and join the conversation on Avery Dennison Graphics Solutions' social channels, including Facebook and Instagram. Follow Art City Wraps at the hashtags #ArtCityWraps and #WallWraps.
View a YouTube video of Art City Wraps installing the Mini Mural Project art: https://bit.ly/30oeUH5