Data Analysis
Did You Know Interest Rates Have Been Falling?
By Dr. Joe Webb
Published: July 6, 2017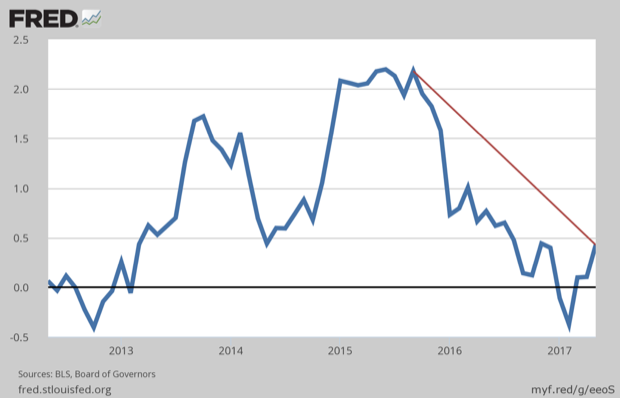 The Fed has been so reticent about raising rates, and in the process, rates for the 10-year US Treasury actually were negative in February. No, that's not market rates, that's the 10-year rate less the year-to-year Consumer Price Index. Since that time, the rate calculated in this manner has moved up 80 basis points. The rate peaked in September 2015 and it's been down since then. The Fed is having problems making the decision to raise rates, and often announced more rates in a future period but increasing rates at a slower pace. They have a target inflation rate of 2% (which means you lose about 25% of your savings over 10 years on a compounded basis). If you believe that the inflation rate is calculated in a manner that makes it seem lower than it actually is, then the Fed's desire to see inflation at the 2% rate before they start pushing interest rates higher may be be difficult to reach or sustain. That means long term rates will stay artificially low (on purpose) for a longer period of time than most experts expect.