Data Analysis
What Share of Shipments is Sold by "Marketing Service Providers"?
By Dr. Joe Webb
Published: January 7, 2016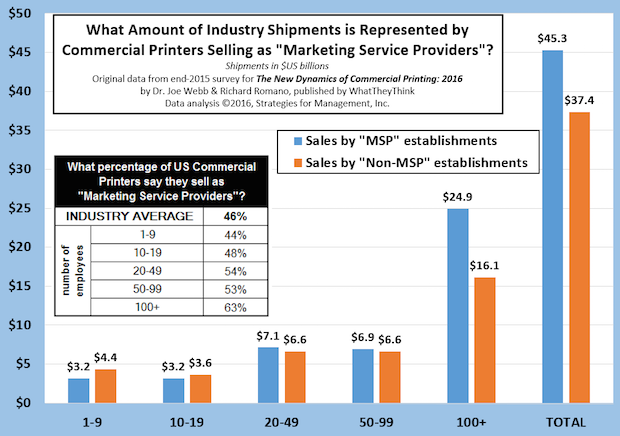 For about a decade, many print businesses have marketed themselves as "marketing services providers" with varying degrees of success. Our recent survey showed less than half of print businesses market themselves in this or a similar manner. Once you break the 20 employee barrier (about $3 million in annual sales) more than half of the printers are in the MSP camp. Almost two-thirds of the largest printers (100+ employees) market themselves as MSPs. We made a rough calculation of what total shipments level are sold under the MSP strategy, and it's more than half of the industry total. Successful MSPs tell us that their printing businesses have blossomed in their total volume with higher margins when they made the serious changes to their business that true MSP-hood demands.
These insights and more are part of the "New Dynamics of Commercial Printing: 2016" report. Order the report at the WhatTheyThink store. The table of contents is available for download. Use discount code ERC2016A for a $100 discount on individual and site license purchases.