At Trumbull Printing, the end of the day is when things start to ramp up at the company's 60,000 square foot state-of-the-art printing facility. That's when Trumbull's customers, who range from community and college newspapers to large business periodical publishers, having just finalized fresh news copy, start sending over their print-ready files. The clock begins ticking, and Trumbull's plant, which is set up to run around the clock, six days a week, kicks into high gear.
Given the challenges of the publishing and printing industries, any edge the company can build into its operations to streamline costs while improving the print operation's efficiency and output quality is a significant advantage. It's an area Trumbull has focused on, especially in the past few years. Most recently, in 2018, the company installed a Quad Tech Register Guidance System with Multicam, which includes a series of cameras and motors installed throughout its large presses. This equipment operates in concert with integrated hardware and software to monitor and then automatically adjust printing registration during a typical press run without any manual involvement by a press operator. Adding this automation has helped to reduce the amount of paper wasted during the press run while helping Trumbull's staff maximize quality for its customers.
Before the benefit of their on-press registration system does its job, there's another investment Trumbull put into place recently that continues to pay real dividends. For years, Trumbull was using wet-processed plates but decided it was time to evaluate process free.
Richard Featherston, Trumbull's head of pre-press, commented: "The push for change came about as our imager was nearing the end of its useful life, which was nearly ten years old at the time. As a forward-looking business, we're always evaluating new ways to streamline and build greater efficiencies across our operations. When we looked at KODAK SONORA Plates, the idea that we could run a dry process free plate was very appealing."
After a short period of testing, Trumbull Printing decided to shift all its plate making to KODAK SONORA Process Free Plates, while also adding two new KODAK GENERATION NEWS Platesetters.
"Making the switch to SONORA Plates was simple, especially with the great support we received from Kodak," Featherston added. "The impact on our printing process once we started using the plates and our new CTPs was felt immediately. With no need for a plate processor anymore, we eliminated the time and cost of managing that process. Most importantly, they worked well with our presses. When you're making a change that big, you need to be assured that you're not sacrificing one benefit for another."
As a business that serves an industry that stakes its reputation on meeting tight deadlines, Trumbull found that the integration of SONORA Process Free Plates combined with the KODAK GENERATION NEWS Platesetter is an ideal fit. SONORA X and X-N Plates are designed so 80% of printers can now switch to process free, and they perform as well, in terms of handling, productivity, and resolution capabilities, as an unbaked processed plate. GENERATION NEWS Platesetters are fast, highly-automated thermal platesetters that can image up to 300 plates per hour and can have up to 1,600 plates online. Every GENERATION NEWS Platesetter uses KODAK SQUARESPOT Imaging Technology to ensure stability and quality for a smooth-running print operation.
"Because we've eliminated all the steps associated with wet processing, we've been able to improve turnaround times for our customers. On average, we've shaved off about 15 minutes from when we hit the send button to when plates come out of the CTP and move onto our presses. Our GENERATION NEWS Platesetters work great, are extremely reliable, and are faster than our old machines. The combination of Kodak's SQUARESPOT IMAGING technology, SONORA Plates, and the on-press registration system allows us to produce exceptional quality print," Featherston concluded.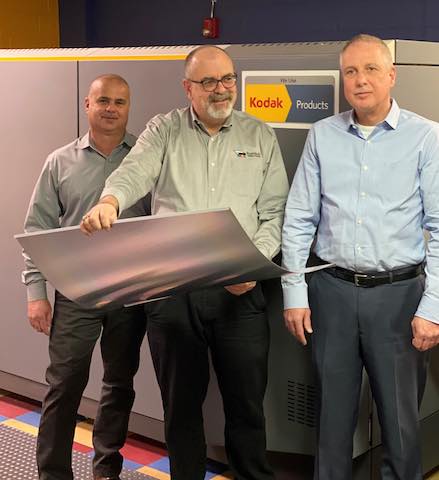 From left to right: Miguel Bonilla, Pressroom Manager, Richard Featherston, Prepress Supervisor, and Gustave Semon, General Manager.