Kennesaw, Ga. – The first Omnifire from Heidelberg in the U.S. will be installed at Paratus Promotional Products, LLC (P3) in Atlanta, Georgia— allowing the company to expand their customer reach by offering the ability to personalize and customize 3-dimensional products.
The Unique Value of the Omnifire
"I started off in offset printing, but I evolved into variable data in 1999," said Howard Givens, CEO and Founder of P3. "Being one of the first people who used variable data in the United States, I quickly saw a huge value in being able to personalize each sheet that passes through the machine. Now, with the Omnifire, I'm excited to take my company, P3, on a new, unique journey with personalization."
Under the umbrella name Paratus, the company started their venture as Paratus Health Systems— focusing on pharmaceutical marketing and sales force automation and management. With the upcoming installation of the Omnifire, the company will reach a different market with Paratus Promotional Products— a new segment of their company. With the demand of personalization increasing among consumers, it's become important for businesses to embrace customers' desires. With the Omnifire, P3 is now able to personalize round and cylindrical objects.
"To me, personalization is a unique capability and margin driver," said Givens. "Most companies can print 500 balls with the exact same thing on each one, but we're able to personalize every single ball with a unique image."
With the Omnifire 250, a combination of inkjet digital printing, robotics, and software makes every surface a printable substrate no matter the shape of the object. Whether it's a soccer ball or tumbler, the Omnifire gives P3 the ability to change its products over within seconds — providing their customers with shorter delivery times with on-demand printing.
"We're definitely looking at our pharmaceutical customers, but we're also going to expand into the ad speciality industry, school organizations, and athletic organizations," said Givens. "There's so many fun ways to use the Omnifire."
The Future of Paratus Promotional Products
While this may be the first installation of the Omnifire in the United States, P3 plans on this being the first of many Omnifires in its shop. After a couple of years of using the Omnifire, P3 believes everyone will know about the high quality the Omnifire offers and the value in having a personalized product.
"Down the road, I would like to have more than one Omnifire 250, and I also plan on installing an Omnifire 1000," said Givens. "By also having the Omnifire 1000, we'll be able to offer more diverse products. Right now, we have a huge advantage being the first one with these capabilities in the US, so I see us being the place to go for personalization. We're excited to get started with these new capabilities and bring them into the market."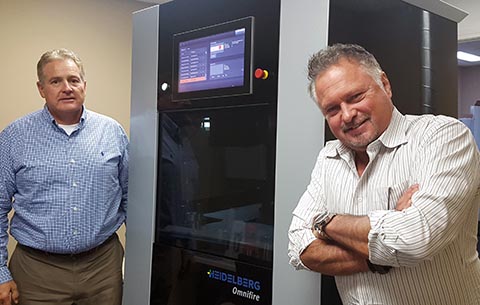 Left to right: Gerald Whitlow and Howard Givens, CEO and Founder of Paratus Promotional Products.