Brummen, The Netherlands – Ink logistics provider GSE has enhanced its Ink manager software by introducing an optional module that brings improved control of job procedures and costs, as well as better traceability in label and packaging printing.
GSE Ink manager software enables converters to minimise ink-related waste, providing improved ink yields, enhanced reporting and business planning and reduced setup times.

The new accompanying management software module, GSE Article management, features two control elements to enable the operator to achieve repeatable quality and accurate cost estimates when printing a design, or 'article'. Its ink calculator function automatically determines exact amounts of colour needed for printing each article. As well as volume, it can also calculate the printed surface area covered by each colour, based on the length, width and coverage factor.

GSE Article management also allows the operator to define or describe specific procedures and equipment used for printing the article, such as required viscosity level, selected anilox roll, designated press and press operator. The software also records all changes, so a traceable history of design changes, by revision stage, can be provided on demand.

When the article is re-ordered, this information can be instantly recalled, assuring identical colour results with the correct amount of ink, while the operator only needs to enter the desired number of articles to be printed.
GSE Ink manager software is now standard with GSE's complete range of Colorsat® dispensing systems for flexo, gravure and screen inks.

At GSE's Labelexpo Americas 2018 stand (558), Ink manager will be the main exhibit. The company will provide demonstrate the many value-added functions offered by the software at the stand.

Anne Lourens, managing director, GSE, comments: "Since it was launched at the beginning of 2018, Ink manager software has demonstrably delivered value, helping converters improve ink yields, provide quality assurance and accelerate decision-making. Visitors to Labelexpo Americas 2018 are welcome to arrange a private demonstration at the GSE stand to experience how this software provides the basis for running a lean and smart printing operation."

GSE's Colorsat modular dispensing systems for fast, accurate mixing and dispensing of flexo, gravure and screen inks are available for label, flexible packaging, paper, carton and corrugated board applications.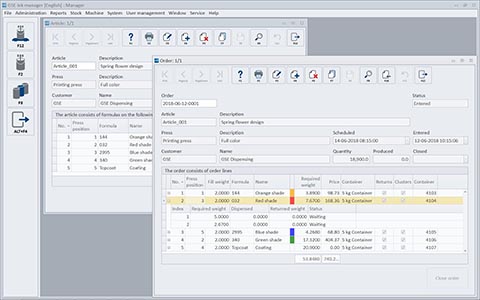 GSE Ink manager software includes new optional Article management module.