Local expertise benefits customers and market development

Manchester, UK – A "remarkably successful" Latin Pack 2018 - CHILE has confirmed for JM Heaford that its strategic focus on building local service and support in Chile is benefitting customers and boosting market share. Visitor footfall and customer engagement during the inaugural Label Pack show (June 7-8) reflected increased sales momentum and growing awareness of Heaford technology since appointing Packaging Xpert as its agent in Chile.

JM Heaford's commitment to local initiatives and industry events has opened up a range of new opportunities for the company. As well as being an active participant in the successful launch of Latin Pack, Heaford was invited to present a keynote address on developments in mounting technology during the event. The company has also enjoyed steady sales success with installations at most major converters including BO Packaging, Impresos Industriales and Edelpa, among others.

According to Nick Vindel, Latin America Sales Manager at JM Heaford, the company's advances in Chile are strategically significant: "Although Chile is relatively small by population, there are many established and growing companies now investing in better technology to improve efficiencies and workflow. You can see this from the number of new systems in the last two years, including modern mounters such as our FTS model. It is the synergy between high-quality products and the local focus of Packaging Xpert that has allowed us to increase our market share in Chile.

"We have over 45 installations in Chile and have been in the market for about 25 years, so companies clearly continue to trust in our brand and our evolving technology," continues Vindel. "Packaging Xpert build on this further. Directors Fernando Alvarez and Herman Zepeda bring with them extensive experience 'at the coalface', both having previously worked in packaging print production themselves, so they understand the needs of customers intimately," adds Vindel.

In the last two years, JM Heaford has installed six machines in Chile. Antonio Nuñez is Operations Director at Edelpa and recently specified a Heaford ELS 700 mounter for mounting sleeves up to 700mm for the company's new Bobst presses: "We have a total of five Heaford systems in our flexographic and rotogravure divisions now. We chose them because we know the technology well and have total confidence in the overall quality of the engineering, as well as the consistent performance they deliver."

Rigoberto Toro, Operations Director at BO Packaging, who installed a Heaford MW 1300 DX for up to 1300mm wide sleeves, servicing multiple Comexi presses, comments, "We decided to purchase a Heaford system because it's so easy to use while also exceptionally precise. Our operators are very happy with the decision."

Represented by Packaging Xpert for two years now, JM Heaford's involvement in regional initiatives and industry events has received wide recognition across all sectors. Fernando Alvarez, Founder Partner at Packaging Xpert and Project Manager of the trade association CENEM (Centro de Envases y Embalajes de Chile) explains: "JM Heaford is one of the most important manufacturers that we represent. In Chile they are without doubt the market leader, preferred by both wide web and label flexo printers, and widely recognised for quality, robustness and technical support. In rotogravure, the latest proofing presses in the market have all been JM Heaford. We believe that in the next few years we will see a shift in the market: on one side, the updating of printing technologies alongside an improvement in the economic conditions of the country. At the same time, we project that there will be a strong increase in the export of foodstuffs that require packaging."

Herman Zepeda, Joint Partner at Packaging Xpert adds, "I am very proud of my relationship with JM Heaford, equally as a customer when I worked at Alusa and Polytec Guatemala, and now as their representative. Their contribution to the industry is immense. I remember only too well how slow mounters used to be and how many re-mounts were commonly required due to incorrect register. Heaford's Microdot technology revolutionized the process by slashing mounting times and dramatically reducing overall press downtime. Today Heaford continues to be ahead of the field, innovating with products such as the new AutoMounters, which offer a unique market proposition as well as the signature Heaford precision – at +/-5 microns it is truly unmatched in the industry."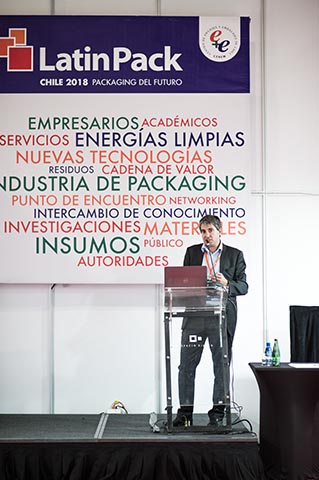 As well as being an active participant in the successful launch of Latin Pack, Nick Vindel, Latin America Sales Manager at JM Heaford, was invited to present a keynote address on developments in mounting technology during the event.