Converters of sensitive materials such as carbonless paper can precision sheet press ready piles at high speeds with MAXSON's MSP Sheeter outfitted with a specially designed delivery system.
The sheeter has the capacity to convert light weight coated grades as low as 30#/3300 sq ft (55 gsm) up to 64" (1625 mm) wide and cut offs between 15" - 65" (381 - 1651 mm) long.
The ability to run at higher speeds is attributable to advances in the design of the overlap delivery system. A driven overlap carriage with variable positioned soft stop rings matches the rate of the slow speed tape section to decelerate sheets by speed and not nip pressure. Soft textured conveyor belts avoid burnishing the surface of the paper clips eliminating tape marks.
Capable of stacking loads up to 5,000 pounds (2,270 kilograms) the sheeter can be outfitted with as many as five shaftless roll stands and an overhead web carrier to keep the incoming webs separated, preventing wrinkles caused by gathering of the material.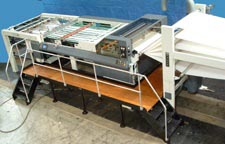 MAXSON's MSP Sheeter can be outfitted with an overlapping delivery system that is specifically designed to run sensitive products at high speed without marking the material.